Architectural Office Interiors
WB Wood provides a wide selection of architectural interiors to help you build engaging, collaborative spaces for maximum productivity. We offer various flexible solutions, including freestanding architectural interiors like the Clipper Elance Interior, PERGOLA workspace and moveable glass ENCLOSE walls from Haworth. WB Wood will help you meet the aesthetics, visual and acoustical privacy, and budget for your office.
The Variations of Architectural Office Interiors
Coming from one of the largest worldwide leaders of construction products, the Saint-Gabain Group, offers single glazed center, single glazed offset and double glazed offset designs that portray a slim profile. The Clipper Elance Interior encompasses slim-framed sliding or pivoting doors to satisfy your office interior needs. The system was created to provide a minimal slim profile design that provides maximum brightness and transparency.
The ENCLOSE series includes the classic ENCLOSE, ENCLOSE Frameless Class and ENCLOSE Frameless Glass 2 Channel products. The classic ENCLOSE is a modular, movable office space with glass, laminate, wall coverings, wood and metal frame options. Meanwhile, the frameless glass ENCLOSE product has a striking all-glass exterior. This choice is ideal if you want glass walls for your office interiors.
The TRIVATI model offers the convenience of the ENCLOSE modular walls and the customizability of a traditional wall by using a flexible tri-channel rail that can fit three panels inserted vertically.
Freestanding architectural structures like the PERGOLA from Haworth are workspaces that also serve as space dividers for office environments. The PERGOLA workstation allows you to choose from various base building features to customize your size. Other options for freestanding architectural structures include the OBEYA from OFS or the BOSSE ACOUSTIC PODS from Dauphine.
Haworth architectural office interiors come in several varieties, from brick-shaped rectangles to cube shapes. The ENCLOSE and TRIVATI office products provide the ultimate space planning freedom since these factory-built modular walls can conform to various sizes.
All Haworth models come with complete customizability and a wide range of palette options to fit the unique aesthetic of your workplace.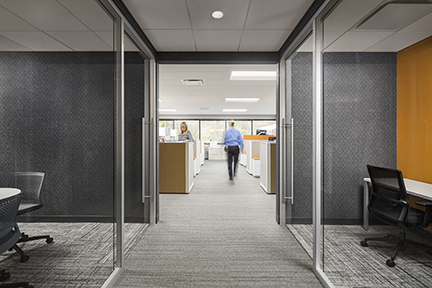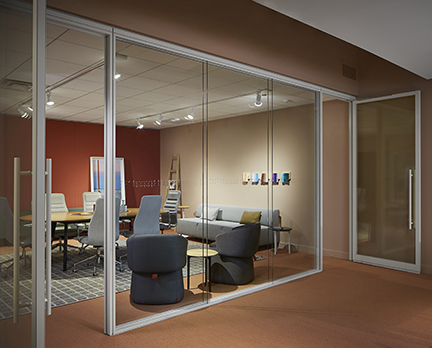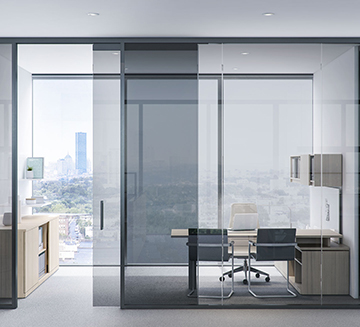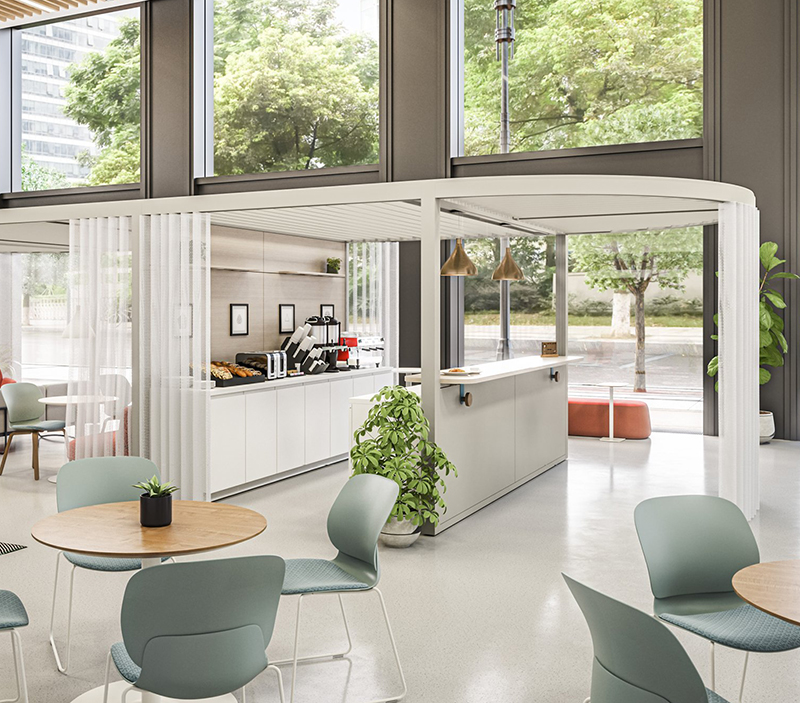 3 Benefits of Architectural Office Interiors
Office layout is a key design feature that can impact human behavior in the workplace. Glass office wall interiors from Haworth focus on maximizing interconnectivity and personalization with an open layout. A well-designed office can feel refreshing and energizing, maximizing productivity and overall well-being.
There are several main benefits of freestanding office interiors that will help your company and employees.
1. Combines an Open Office Plan and Traditional Office Space
Many companies want the structure and stability of a cubicle environment while integrating greater openness. Architectural office furniture combines traditional design with an office plan that uses glass and other partition types to make clear lines of sight between employees and allow natural light to enter the office.
2. Encourages Interpersonal Connection
It can be easy for employees in a cubicle or drywalled office to work without much human contact. The goal of interior office wall systems is to encourage employees to collaborate on ideas while still having a sense of personalization and privacy when needed. The design encourages individuality while remembering each individual is part of a team with the same goals.
3. Offers Flexibility and Scalability
Freestanding office interiors make it easy to build a design and then reconfigure it later without needing to invest in constructing new offices or tearing down drywall partitions.
FEATURED ARCHITECTURAL OPTION
Creative folks will tell you that a point of reference can often times produce far more creativity than starting with a blank canvas. This is the fundamental essence of Obeya from OFS. Through the richness of wood, its design was intended to simplify and define space. Spaces designed with intent communicate expectations without precisely prescribing them. Obeya is a framework that brings settings and people together accordingly, based on the human needs of privacy and belonging.
Smart choices can drive productivity through settings that support individuals, small groups, and larger gatherings, so interactions can be comfortable, tailored to the participants. In Obeya, people can find a place that is right for them to support the work to be done.
Contact WB Wood for Office Interiors Procurement Needs
Whether you're ready to move into a new office or want to reconfigure your existing workspace, WB Wood is here to serve you. We will go the extra mile to help you balance your goals with your budget. You can browse our selection of architectural interiors and dividers to find your ideal product.
Have questions? Fill out our online contact form or give us a call at 212-647-6200 to connect with a member of our service team.