As an architect or designer, you have many considerations when building or redesigning office spaces. Designs must suit a company's needs, encourage employee collaboration and improve productivity. Beyond these practical factors, designs must fit company aesthetics.
Many businesses today feature outdoor office spaces because they offer many benefits for employees and companies. If you would like to create an outdoor office space, WB Wood can help. We offer furniture procurement and project management services to help you design the ideal outdoor working spaces. We'll help you find suitable outdoor chairs and tables for both function and style.
How Outdoor Furniture Benefits Your Office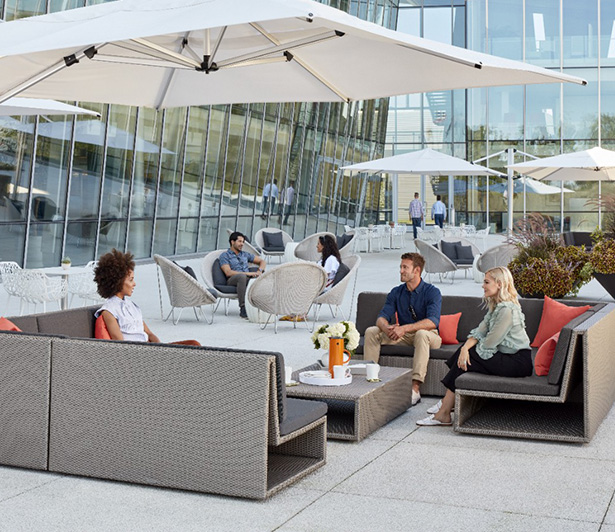 If your office contains an outdoor space, utilize it to its fullest potential by adding outdoor furniture. Here are a few benefits that outdoor office space can bring:
Better brainstorming space: Sometimes, employees need a change of scenery to improve their imagination and generate new ideas.
Vitamin D provision: Sunshine is the best source of vitamin D, which can increase immune health and strengthen bones, making employees healthier and happier.
Socialization: When employees need a break, comfortable outdoor furniture can create a relaxing environment for gathering and bonding.
Improved mental health: When employees spend time outside, they can enjoy better mental health and improved cognitive function.
Collaboration: Outdoor furniture for office buildings can create hubs for working together where staff members can meet up and discuss ideas.
WB Wood's Outdoor Furniture Offerings
WB Wood procures outdoor tables and chairs from Haworth, our premier manufacturing partner. We also work with other quality outdoor furniture brands, including Bernhardt Design. Through our procurement and project management services, we'll help you create an office building outside with furniture that serves your needs.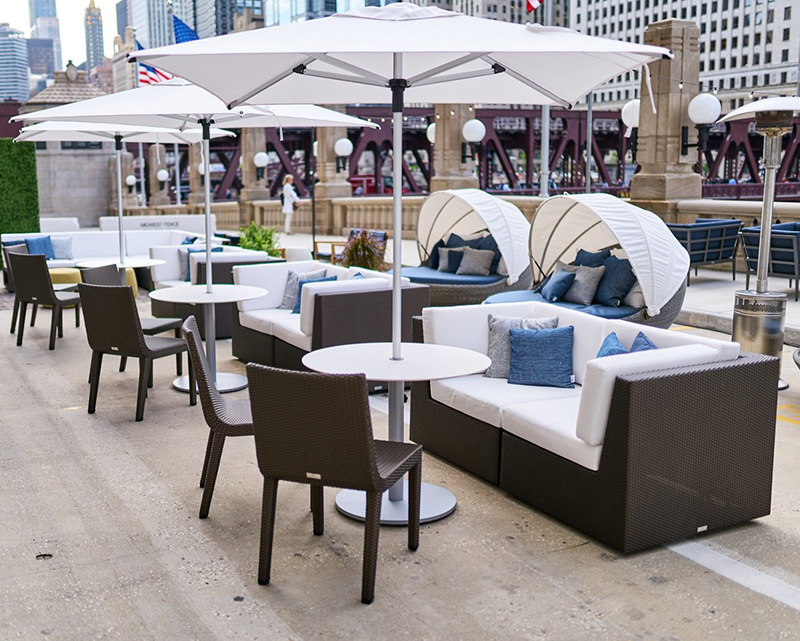 While you create an outdoor working space, we can help you develop and adhere to a schedule and budget. We'll also plan delivery and installation according to your building schedule. Through ongoing support throughout the design process and beyond, we do everything we can to help you make functional and appealing workspaces that grow and adapt according to company needs.
We can source several products for your outdoor workspace:
Tables: Whether you need large tables for outdoor meetings or side tables to place next to couches, we'll help you find the right fit for your company's needs.
Chairs: We can create a relaxing space for employees to take breaks with sofas or equip outdoor tables with ergonomic office chairs for group meetings.
Creating an Outdoor Workspace
This short video from WB Wood shows a variety of outdoor furniture options for workspaces or lounge areas that are located outside the traditional office environment. Everything you need to create your perfect outdoor workspace. And WB Wood is here to help you find the right mix of furniture to foster happiness, health, and productivity. 
FEATURED OUTDOOR OPTION
With its organic silhouette and striking form, FOREST outdoor chairs from JANUS et Cie and Haworth bring vitality to any social space, from collaborative areas to casual outdoor meeting spaces. These outdoor stools and chairs come in a diverse palette of finishes and a full range of seating options—including side and armchairs, as well as stools in two heights— to accommodate the needs of the setting, while reflecting the organization's culture, style, and brand.
For more than 40 years, JANUS et Cie has been an industry leader in design-driven furnishings for the outdoors. The luxury furniture brand is now part of Haworth's Lifestyle Design family.
Contact Us for Outdoor Office Furniture
WB Wood was founded in 1905. Since then, we've honed our skills to provide exceptional experiences to every client we serve. Our extensive network of manufacturing partners and our focus on meaningful communication with clients makes us unique as a furniture service provider and management company. We want to understand your needs and preferences thoroughly to provide the most effective outside office furniture for your space.
Let us know what we can do to help you by filling out our online contact form. We would love to work with you to equip your office with outdoor furniture that fits your goals and budget.