Are you looking to gain a bit more storage space in your office layout? A credenza provides more room for books, office supplies, recycling equipment and waste bins, refrigerators, personal items, and media management without leaving a large footprint in your space. You can also use it as a secondary workspace.
WB Wood is your one-stop headquarters for modern office credenzas you can use for multiple purposes in your office environment. We're a leading national furniture service provider and project management company founded in 1905. Count on our experience, expertise and attention to detail to ensure the best results for your next office project.
Wood Office Credenza Variations
Our credenza office furniture is available in a wide range of shapes, sizes, colors and types. Examples from our extensive product lineup include:
Be_Hold: These credenzas from HAWORTH are available in numerous attractive designs and feature a host of customizable options. Integrate height-adjustable tables to provide additional space to spread out documents. The pulls come in an assortment of colors to complement your office decor.
A Series: These modern office credenzas offer the ideal combination of style and functionality. Their solid construction delivers the superior strength and durability required to meet your long-term storage needs. You'll also appreciate their clean aesthetics that fit into any office environment.
Luxor: Consider this credenza from HAWORTH if you're looking for a practical office storage option that also provides a significant style upgrade.
What Are the Benefits of Office Credenzas?
Credenzas go by many names — you may know them as sideboards, buffets or servers. This cabinet-style furniture piece typically features a table-like surface resting on short legs, with extra storage space underneath. In an office environment, a credenza often flanks a conference table or desk. Some models come with a hutch with shelving.
Wood office storage credenzas offer several benefits: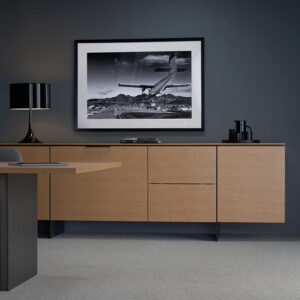 Promotes collaboration: A credenza with a flat surface can provide another workspace ideal for collaborating with another worker on a project or serving as a convenient location for a face-to-face meeting.
Improves organization: Use the additional storage space to reduce clutter and provide more working space. You can keep unused items out of sight but nearby for fast, easy access.
Offers placement flexibility: Set up your credenza where it fits best in your office layout — against a back wall, adjacent to a desk or as a functional showpiece in a conference room.
Adds a sophisticated touch: High-end office credenzas can help generate an air of authority. They're a furniture staple for busy executives looking to project status and prestige.
Provides multiple style options: If you haven't purchased a credenza before, you'll be amazed at the wide range of designs and styles available. You can customize your office decor to suit your tastes.
FEATURED CREDENZA OPTION

If you're looking for a contemporary, functional credenza, the TEMPO from ANDREU WORLD perfectly captures that essence. It is designed to be configured with modular elements for multipurpose uses in workspaces and meeting rooms or to separate public or private spaces due to their ability to organize the environment.

TEMPO is a configurable storage program available in different sizes and finishes and with a choice of doors or drawers, both of which are easy to open and close. This allows you to optimize storage in a practical way.
The TEMPO also has a wall-hung version and two base options, the sturdy and slim sheet metal or the wooden feet integrated into the enveloping credenza structure.
Contact Us for Office Credenza Procurement
WB Wood can assist you with procuring the right office credenzas for your unique storage and aesthetic requirements. We're also available to help with the office design process to ensure your new furniture meets your functional needs and contributes to a more productive work environment.
Take the next step by filling out and returning our online contact form to tell us more about your furniture needs and design requirements. We're also available to discuss your project by phone. Call us at 212-647-6200 to speak to a representative today.