Office Coffee, Side, and End Tables
Every office has a space or two that would benefit from the perfect accent table. And if you're looking for coffee, side, or end tables to complete your office layout, we can help you find the right size, style, and color scheme to fit your budget.
Coffee Tables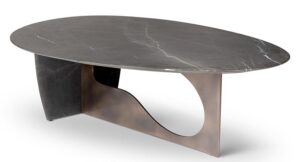 Modern coffee tables offer a sleek, durable surface to enjoy a beverage in the office. WB Wood is here to help you select from a wide inventory of high-end, human-focused coffee tables. We offer cost-effective laminate tables for indoor solutions and outdoor options with teak, resin, wood, aluminum and other weather-resistant tabletop materials.
WB Wood can help you find the contemporary coffee table you need from a vast selection. Brands like Haworth, JANUS et Cie, Cappellini, Poltrona Frau, Cassina, BuzziSpace and Emeco are designer options for café tables.
These tables come in many shapes, including circular, square and rectangular options. Many tables also come with adjustable heights so your employees can sit or stand to connect. The color palette ranges from black, white and gray to wood tones and more.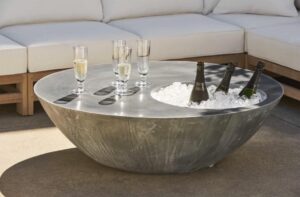 More distinct coffee table types include small, handcrafted tables made with teak, a round bar-height aluminum table and everything in between. Each table is unique, with various indoor and outdoor storage features.
Each table includes a low-maintenance surface that is easy to wipe clean. Whether you want a storage spot, a welcoming place for guests, or a drink station for employees, you can find options with WB Wood.
Side and End Tables
A modern end or side table can be the perfect addition to your company's workspace. Here at WB Wood, we believe every piece of office furniture should be stylish and function as an integral part of your office. That's why we offer a wide variety of smaller tables that sit alongside a chair, stand at an entryway and perform many other convenient functions.
WB Wood can help you choose from a vast selection of side and end tables in all shapes, sizes, colors and styles.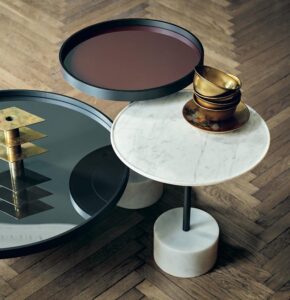 We provide everything from glass end tables to fiberglass side table varieties. The main surface materials we offer include: Wood, Veneer, High-pressure laminate, and Glass.
You can choose from round, rectangular and square options with an assortment of eclectic shapes and style choices. Based on your needs, WB Wood can provide a long, narrow side table designed for sitting alongside a couch or a sphere-shaped, fiberglass Bong end table with a white Carrara faux marble finish intended for use in a social space.
Benefits of Coffee Tables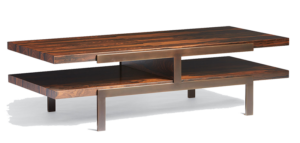 Coffee tables offer multiple advantages to any size office, like setting corporate culture, boosting morale, encouraging group communication and more.
Productivity
Coffee tables can increase productivity, especially during project crunch and deadlines. Providing space for employees to relax for a moment and socialize reenergizes them for the next task ahead. A modern glass coffee table is a powerful tool for creating a connection hub in your office where employees share ideas and build office relationships.
Aesthetics
These aesthetic tables complement your design choices and workplace culture. A designer table can convey your passion for excellence and your corporate brand. If you prefer a simple, modern look, you can show that through all furniture, including your coffee table.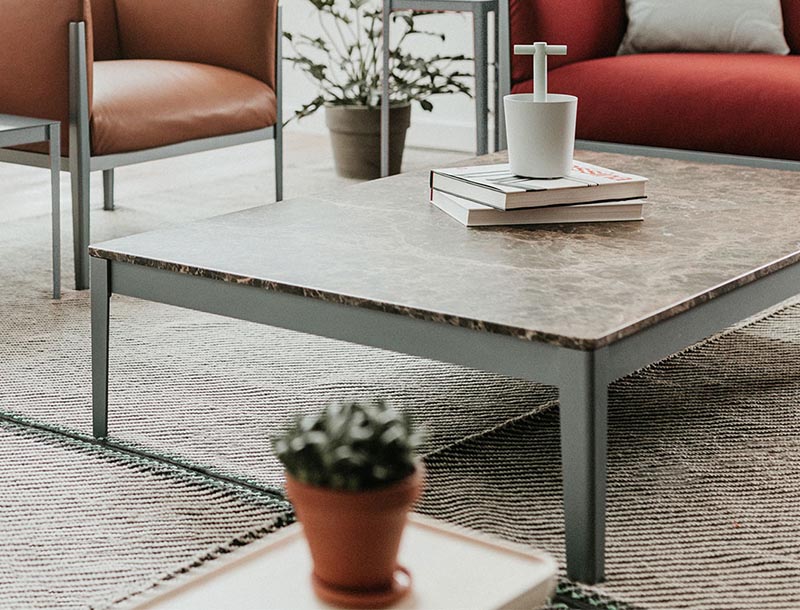 Nutrition
A coffee table is ideal for offering fruit and veggie snacks. You can help hungry employees refuel and prevent midafternoon sluggishness. Coffee tables are great for lounge areas, but they can also fit in a corner nook by an office kitchen or by the break room. The more coffee tables you have available around the office, the easier it will be to encourage collaboration.
Function
You can use coffee tables for storage, decoration, work or meals. A coffee table is an excellent complement for seating since it encourages your team to enjoy their drink, sit down and connect.
Benefits of End and Side Tables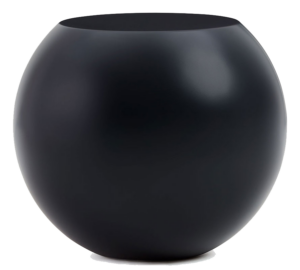 Side and end tables are the perfect accent piece to elevate an office environment with a unique finish like wood or a bright color. They're an excellent place to showcase corporate awards, memories from your company's history or decorative accents like vases and flowers. Using these tables is also an effective solution for storing items such as books and magazines for guests or trade journals for employees.
From a decorative perspective, side tables add balance to a room. You can provide a side table on each end of a lounge chair or couch in a waiting room to create symmetry and offer places for people to set down their hot tea or coffee. People often take office end tables for granted until they have no place to set down a beverage or book. It's vital to think through the practical needs of hosting guests and colleagues in a high-quality office environment.
If you're not sure where you should begin with adding accents to your office space, we can help. WB Wood has generations of experience connecting offices with furniture solutions that will work perfectly for their layout.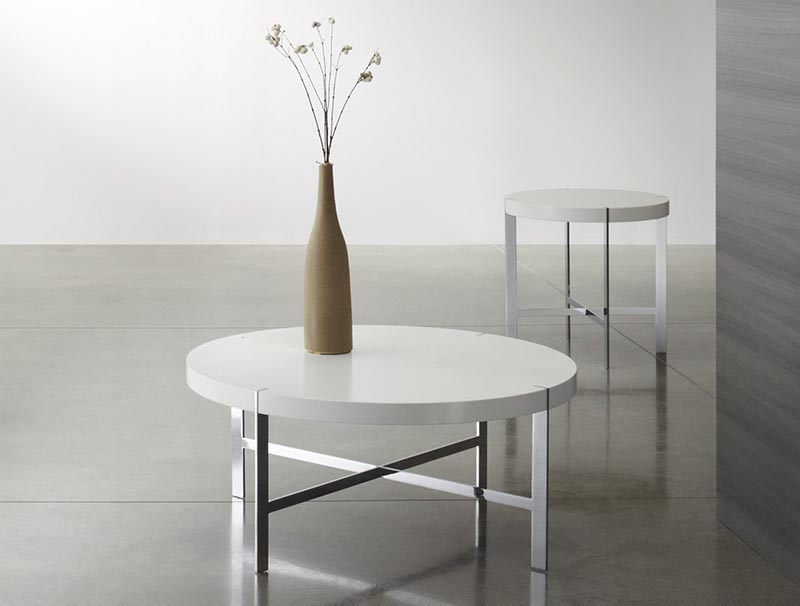 There are several general types of end tables with various uses, including:
Storage end table: Storage end tables make it easy to put away supplies or books and magazines without your office appearing cluttered.
Nesting end table: Nesting end tables usually come in groups of two and fit underneath one another, so you can display decorations or food items.
Chairside end table: A chairside end table focuses on features like drawers, shelves or magazine ranks, so you can keep frequently used items close at hand.
FEATURED TABLE OPTION
Tapered sides transform a pure form into an object of graceful beauty. The Oblique Occasional Tables from Touhy are compatible with both organic and rectilinear forms. Oblique tables are available in the world's finest veneers or wrapped in faux leather for softer hand and antimicrobial properties.
The tops of the Oblique tables come in many varieties: quartz, acrylic (solid surface), glass, wood, HPL, or Fenix®. Veneer tables are also available in a self-top.
Nominal Sizes: 12 Diam 18h, 24 Diam, 18h 24 Diam, 14h 36 Diam 14h, 19 Diam 22h, and 14 Diam 28h 

Contact Us for Your Coffee, Side, and End Table Needs
A well-placed office coffee, side, or end table can serve as the perfect accent piece to wow your guests and add convenience for your staff. WB Wood has been helping companies like yours with furniture project management and procurement for over ten decades. That's why we can confidently help you find the table solution that meets your goals and falls within your corporate budget.
Feel free to browse our table selection and contact us online with any questions. You can also call us at 212-647-6200 to connect with a service specialist.