Conference tables are critical to creating a corporate aesthetic for the work environment and an effective meeting place for crucial decision making, goal setting and collaboration. WB Wood is here to help you find the perfect table to complement your décor and create a professional atmosphere balanced with high-quality functionality.
Whether you need furnishing for a new office space or want to take your current workspace to the next level, WB Wood can help you find the perfect selection that meets your goals and budget.
The Variations of Conference Tables
Office tables are ideal solutions for collaboration and focused periods of deep work. There are many variations in size and style, ranging from small round office tables designed for peer-to-peer collaboration and training to conference tables for larger groups. Whatever your company's work style, WB Wood can guide you to a unique fit.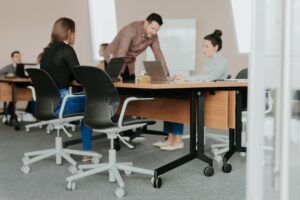 The main types of conference tables you can select from include:
Boardroom tables.
Elliptical tables.
U-shaped tables.
Boat-shaped tables.
Rectangular tables.
Square tables.
Round tables.
Designers often divide modern conference tables into two categories:
Collaborative conference table: This style has become a popular trend designed to reduce competition and increase teamwork. Often, these tables feature round designs so that no one person sits at the head of the table. They're often a downsized solution designed to bring teammates together in break-out rooms.
Contemporary conference table: This option offers the professional aesthetic and design for a corporate business meeting. For example, it's easy to have a designated leader at the head of the table with a hierarchy for seating.
Benefits of Conference Tables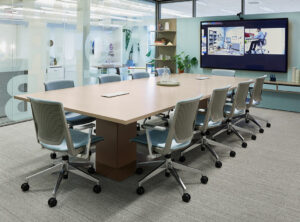 Furniture makes a statement about your company's corporate culture and attention to quality. A top-notch conference table is an opportunity to create a memorable meeting place for both colleagues and guests. An attractive table can make a striking first impression on new hires and help guests feel comfortable. The time, effort and money spent on creating a conference room atmosphere that is professional yet warm and inviting can sometimes mean the difference between success and a failed negotiation.
Another key benefit of conference tables is productivity. A conference room with an effective table signifies to employees that it's time for decision making and goal setting. Each time your team achieves success at the table, it becomes easier to behave decisively in this dedicated area the next time.
Organizational psychology is another vital benefit of a conference table. Different table shapes cue human beings on the organizational structure of a meeting. For example, conflict management experts often use round tables to meet with opposing teams since there is no single person at the head of the table. A rectangular table promotes collaboration and feedback, as colleagues face each other but leaders and authority figures are still at the head of the table.
FEATURED TABLE OPTION
The IMMERSE conference room table from Haworth invites intuitive collaboration in the office by creating a clean workspace with easily accessible storage. Immerse brings a new meaning to the term office conference table by adding easy built-in storage and design elements that work in both casual and professional atmospheres.
Creativity and innovation can take shape at a moment's notice with IMMERSE. A catalyst for spontaneous collaboration, each work surface creates a social hub that invites serendipity, variety, and choice in the workplace.
The IMMERSE conference room table has many unique configurations that enable and cultivate both planned and organic interactions. Choose from five styles to add high design and unique personality in community spaces. IMMERSE's range of sizing options make it an ideal office conference table.
Contact WB Wood to Find a Quality Conference Table
WB Wood has more than 115 years of experience helping offices like yours with project management and procurement in the furnishings industry. That's why we can confidently guide you step by step to bring the vision for your conference room to life within your budget.
Ready to find out more? Explore modular conference table options by browsing the newest furniture additions from the 2022 NeoCon event! You can also contact our team by filling out our form online or calling us at 212-647-6200 to connect with a specialist today.