How to Make an Office More Welcoming
October 28, 2022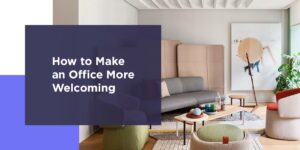 Inviting and warm office spaces will produce positive benefits for your company. Prospective clients will feel relaxed and peaceful in a welcoming office space that reassures them that they are making the right choice by obtaining your services. Employees will be more productive and happier in an office with a friendly atmosphere.
Cultivating an inviting environment in your office doesn't have to be difficult, time-consuming or a financial drain. It boils down to your office design. These tips to create a welcoming office will suggest various design elements you can incorporate to obtain the office atmosphere you want.

Incorporate Various Warm Colors
Color in the workplace impacts perception, behavior, mood, well-being and performance. Adjusting your office design to include more color is probably the most cost-effective way to create a welcoming office design. Neutral-colored offices need other colors mixed in to pop, give off a friendly vibe and increase productivity.
Warm colors stimulate people and help them feel energized, thereby improving productivity. Warm colors include red, orange, yellow and other colors in the same family, such as pink or gold. These colors are cozy and earthy, making them perfect for creating inviting office spaces.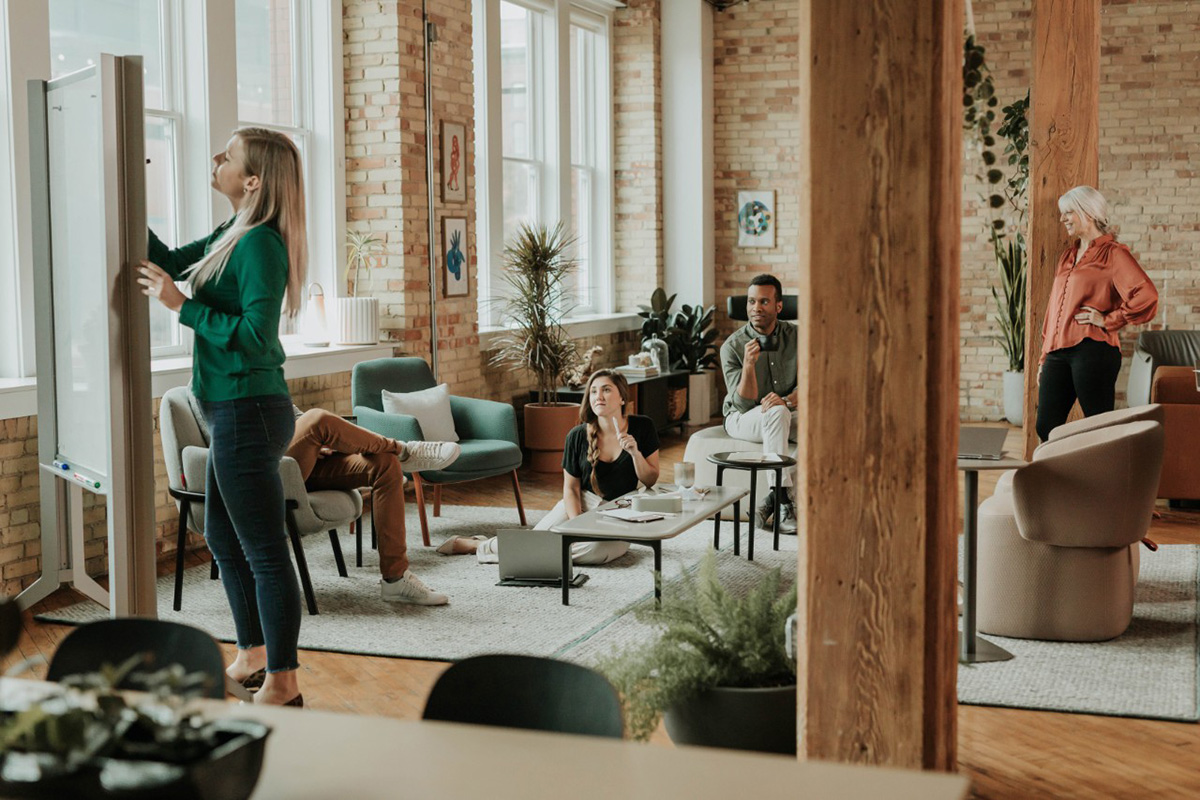 You can also mix neutral colors like white and gray with warm colors. If your office is white or gray, you can incorporate warm colors throughout your decor. An orange accent pillow will brighten any gray lounge chair and make the room more energizing and airy.
You can incorporate the colors from the company's logo or brand when choosing a color scheme. Designing your office color layout based on the company brand can increase workers' company pride. Since you can mix warm colors with virtually any color, it'll be easy to blend them with your brand colors. Mixing colors will foster a positive atmosphere while maintaining a professional look in the office.
Organize Your Clutter
A cluttered workspace is a distraction that will decrease employee efficiency. It is easy for important documents to get lost in a messy workplace. When paperwork gets lost, it will be more difficult for employees to complete their work in a timely manner. This leads to frustration and dissatisfaction and produces an unhealthy work environment.
A messy office will also turn clients off. Their first impression of your company will be that your employees are disorganized and unprofessional. A negative first impression is hard to change and could harm your company's reputation. You should organize any office clutter to prevent these adverse effects on your company's image and employees.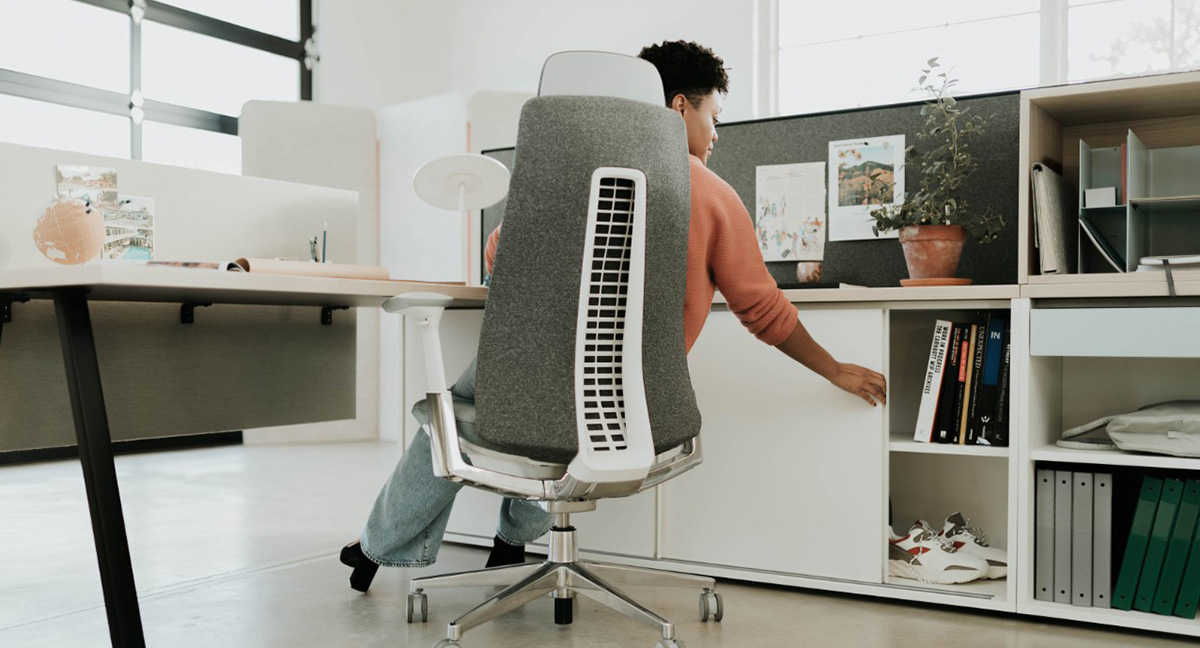 Many office storage system options exist in various styles and designs. Storage options can fit your office layout and enhance your design better than filing cabinets that are hidden away in a corner somewhere. WB WOOD can show you various storage options, including:
Personal: Employees have numerous personal items they keep on, in and around their desks. Offering individual storage will prevent workstations from becoming cluttered. Workers can store their bags, documents and personal accessories — like photographs and plants — on a shelf near their desks to keep everything tidy and organized.
Shared: Shared storage comes in many forms to fit the needs of any office. Shared storage offers a communal place to store similar items or documents for quick organization and convenient access. Some options for shared storage include filing cabinets, wardrobes, shelving, file carts, lockers and towers.
Bookcases and credenzas: Although you can use bookcases to display books and magazines in a waiting area for clients, they can also display company memorabilia, awards, personal items and devices. Company awards and achievements on display will increase a prospective client's trust in your company.

Add Custom Artwork
Art speaks to people and communicates stories. Every company has a story about how and why it was founded. Custom art can bring this story to life. You can have a mural painted or hang up paintings or pictures that reflect your company values and motivation.
Artwork creates a warm atmosphere and encourages critical thinking and socialization. Workers can discuss the meaning of the artwork with one another. Clients may comment on how they admire your art piece and ask you to explain the meaning, giving you a chance to talk about how your company was founded and its goals and mission statement.
Office accessories and art will make your office more comfortable. You can use many types of wall and floor decor in your design. Art doesn't have to be a painting — it can be anything you want it to be and have whatever meaning you want.
Use Various Creative Floor Materials
Architectural walls, art, furniture and decorations usually come to mind when you think of office design. But, there are other aspects to consider, such as flooring. Choosing various colors and patterns can reflect talent and creativity and is another way to incorporate warm colors in your office.
Including different types of flooring throughout your office, such as hardwood, carpet, rugs and linoleum, will make your floors attractive and inviting. Carpet and rugs promote a homey, relaxing environment because they are often in living rooms and bedrooms.
Bring Nature Indoors
Greenery and nature are very soothing and welcoming. It has a calming effect that reduces stress and increases happiness. One of the top ten interior office design trends in 2023 is to bring nature indoors using water walls, fountains, plants, green walls and natural building elements. Live plants in the office will improve air quality and benefit employees' mental health and well-being.
Create Gathering Places
Gathering places, such as lounges and kitchen or pantry spaces, offer employees a chance to socialize without the restraint of formality. This encourages friendliness, creativity and the exchange of ideas. For gathering places to feel inviting, they need to have casual seating in warm colors or use warm colors as accents.
Comfortable furniture will do wonders in creating a relaxing environment. You can use comfortable furniture in waiting areas for clients as well. This will influence the first impression they have of your company to be one that is warm and welcoming.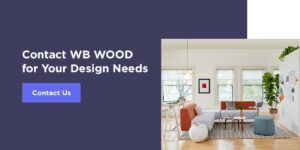 Contact WB Wood for Your Design Needs
Founded in 1905 and recognized as a prominent furniture service provider and management company, WB Wood has the connections to provide you with the perfect furniture for your design needs. We are partnered with over 300 manufacturing companies and are a leading distributor of Haworth.
We have access to many innovative and multifunctional designs and can help you find the furniture and accessories you need to design your dream office space within your budget. Contact us to get in touch and start working on your office design or redesign project.