Classroom Furniture Solutions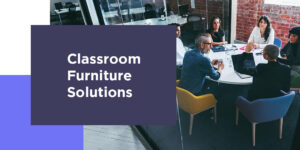 The right classroom furniture can make all the difference in creating a space that fosters creativity, collaboration and learning. At WB Wood, we are committed to helping educational facilities create the perfect learning environment for their students. With comprehensive project management services, we have everything you need to transform your space into a dynamic and engaging learning environment.
Furniture Solutions for Schools
What Can WB Wood Do for You?
Educators need to create a learning environment that is both comfortable and functional. That's where WB Wood comes in. As a furniture project management company, we specialize in providing furniture procurement services for schools of all levels.
Higher Education
Higher education furniture has unique needs, which is why we provide various options for each zone, space and class. Whether you need lecture hall seating, flexible options, collaborative furniture or ergonomic task chairs, WB Wood has you covered. We also offer customized solutions so you can create a space tailored to your specific requirements. Our procurement services include:
Bench seating: Bench seating is a great solution for lecture halls or other spaces where large groups of students need to sit and listen to a speaker. WB Wood offers a variety of bench seating options, from traditional wooden benches to modern metal or plastic options. We can also provide bench seating that is upholstered for added comfort.
Computer stations: WB Wood can provide computer stations designed to be comfortable and functional for computer labs or other spaces where students need to work on computers. These stations can include adjustable-height desks, ergonomic chairs and built-in cable management to keep cords and cables organized.
Study carrels: Study carrels and workspaces offer students a private space to study and work without distractions. There are also group options and additions like built-in power outlets and USB ports so students can easily charge their devices while they work.
High School and Middle School
In high schools and middle schools, furniture must be functional and durable. That's why WB Wood offers a wide range of furniture solutions designed to withstand daily use's wear and tear:
Seating and work desks: A few solutions include traditional desk and chair combinations and collaborative desks that can be arranged in various configurations to encourage group work. In addition to classroom seating, there are seating solutions for common areas such as cafeterias and auditoriums. Work desks and seats have material options, including plastic, metal and wood, customized to match your school's unique style.
Study furniture for the library and study zones: To create study zones and provide comfortable study furniture, you need various options, including bookcases, shelving and study carrels. For the library, there are bookcases and shelving made to hold a large number of books and materials. We also have comfortable seating options, including lounge chairs and sofas, to create a welcoming and relaxing space for students to read and study.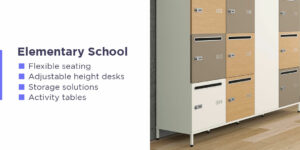 Elementary School
Furniture needs to be both functional and fun for elementary schools. There are a number of furniture solutions designed to capture the imagination of young students. From colorful chairs and desks to activity tables and reading nooks, WB Wood can provide everything you need to create a space that is both engaging and educational:
Flexible seating: Flexible seating is becoming increasingly popular in elementary schools, as it allows students to choose seating options that are comfortable and engaging.
Accessible furniture: A comprehensive range of furniture ensures every child can participate fully in the classroom. From adjustable desks and chairs that accommodate different heights and mobility levels to sensory-friendly seating options, accessible furniture promotes inclusivity, comfort and engagement for all students.
Storage solutions: Elementary schools require a lot of storage for books, supplies and other materials. These materials are different sizes and weights, requiring customization and personalized types for each space. We offer bookcases, cubbies and shelving units, which we can customize for each grade level and each space's unique needs and requirements.
Activity tables: Elementary schools need different types of tables for all the specific activities, including art projects, science experiments and group work. Inquire with us about round tables, rectangular tables and kidney-shaped tables, which can be customized.
Project Management Experts
We understand that businesses are dynamic and ever-changing, which is why we take a flexible and adaptable approach to furniture project management for schools. When generating initial specifications, we consider future management issues and account for each facility's unique needs and circumstances.
We aim to simplify the furniture project management process and ensure our clients have the support they need to achieve their goals. Whether it's providing design assistance, coordinating delivery and installation, or offering ongoing maintenance and support, we are here to help our clients with our:
Experience and expertise: WB Wood has a team of experienced project managers who are experts in their field. We have worked on various furniture projects for educational facilities of all sizes and types and have the knowledge necessary to manage your project from start to finish.
Cost savings: One of the benefits of working with project management experts is that we can help you save money on your furniture project. We have established relationships with classroom furniture companies and suppliers, which allows us to negotiate better pricing on your behalf.
Custom solutions: We understand every school is unique, which is why we offer custom school furniture solutions tailored to your specific needs and requirements. We'll work with you to design and create custom furniture pieces that are functional, durable and work for your space.
Classroom Furniture Procurement
Furniture procurement for schools can be complex and time-consuming, which is why we offer comprehensive procurement services to help simplify the process and ensure our clients get the furniture solutions they need.
Our procurement process begins with thoroughly assessing the educational facility's needs, goals and budget. We use this information to create a comprehensive furniture procurement plan tailored to their needs.
We then leverage our extensive network of furniture manufacturers and suppliers to source high-quality, durable, affordable furniture solutions that meet your needs. Once we have selected the furniture solutions that best meet your needs, we handle all aspects of the procurement process, from ordering and delivery to installation.
Featured Classroom Furniture
Collaboration furniture is becoming increasingly popular in educational facilities as it can help to promote creativity, communication and engagement in the classroom. At WB Wood, we offer a range of collaboration furniture solutions designed to meet the unique needs of educational facilities of all types and sizes, including:
Standing workstations: Standing workstations and height-adjustable desks are becoming increasingly popular in educational facilities, as they can help to promote a more active and healthy learning environment. Our standing workstations are designed to provide students with a comfortable and ergonomic work surface while allowing them to stand and move around as needed.
Boards: We partner with classroom furniture companies like Ghent Manufacturing and AARCO Products Inc to procure a selection of whiteboards, glass boards and bulletin boards. Engage your students with lined and unlined boards, ideal for lessons to students of all ages.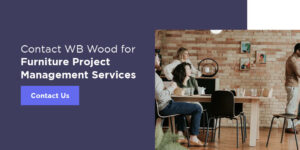 Contact WB Wood for Furniture Project Management Services
We offer comprehensive project management services to help you manage every aspect of your project from start to finish. You can expect personalized service, attention to detail and a commitment to excellence that is unmatched in the industry.
Our school furniture project management services include everything from initial planning and design to procurement, logistics, installation and ongoing support. At WB Wood, we are committed to providing high-quality, durable furniture solutions that meet the unique needs of educational facilities of all types and sizes.
Contact us today to learn more about our collaboration furniture solutions and how we can help you create the perfect learning environment for your students.