Financial Institution Furniture Solutions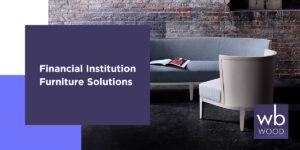 For over 70 years, WB Wood has been a trusted provider of high-quality furniture solutions for businesses across various industries. With a focus on custom furniture and exceptional customer service, WB Wood has established a reputation for excellence in design, craftsmanship and project management.
Whether you're a bank, credit union or financial institution looking to create a welcoming and functional space for your customers, a hospitality business in need of modern and comfortable furniture for your guests or a commercial space seeking customized solutions that meet your unique needs, WB Wood has the expertise and experience to bring your vision to life. If you're in the market for furniture solutions that are both functional and comfortable, read on to learn more about what WB Wood can do for you.
Furniture Solutions for Financial Solutions | What Can WB Wood Do for You?
You need functional and comfortable furniture for employees and customers alike. At the same time, you want professional furniture that complements your institution's overall aesthetic.
Curious about what solution WB Wood can offer your business? Take a closer look at some of the furniture solutions they provide:
Design consultation: WB Wood offers design consultation services to help clients bring our ideas to life. They work closely with clients to understand our vision and to create custom furniture designs that meet our unique needs and specifications. Our design team can also provide suggestions and recommendations based on our extensive experience in the industry. We can also offer bank furniture redesign services if you are looking for an upgrade on your financial institution's interior design.
Schedule adherence: WB Wood understands that timing is crucial in any furniture project. They work closely with our clients to develop a detailed project timeline and then take all necessary steps to ensure the project stays on track. Our project management team closely monitors each project phase to ensure that all tasks are completed on time.
Cost control: WB Wood is committed to offering our clients high-quality furniture solutions at a reasonable cost. They work closely with clients to develop a budget for the project and then take all necessary steps to ensure that the project stays within that budget.
Project Management Experts
WB Wood has a team of experienced project managers dedicated to ensuring every furniture project's success. Our team has extensive experience in financial institution furniture project management and has worked on a wide range of furniture projects for banks and other commercial clients.
Here are some of the key ways in which WB Wood's project management team can help ensure the success of your furniture project:
Communication: WB Wood's project management team keeps clients informed throughout the project, providing regular updates on progress and addressing any concerns or questions that may arise.
Planning: WH Wood's project management team works closely with clients to develop a detailed project plan that outlines all the tasks and milestones involved in the project. They also establish a timeline for the project, considering any constraints or challenges that may arise.
Coordination: Furniture projects often involve multiple stakeholders, including designers, engineers, manufacturers and installers. WB Wood's project management team coordinates all these stakeholders to ensure everyone is working towards the same goal. They also oversee the project's logistics, ensuring that materials and components are ordered and delivered on time.
Quality control: WB Wood's project management team is dedicated to providing the highest quality standards in every furniture project. They conduct regular inspections and testing to ensure that every piece of furniture meets the client's specifications and standards.
Financial Institution Furniture Procurement
WB Wood's experienced procurement team specializes in sourcing high-quality materials and components for your furniture projects. Our procurement team has extensive experience in the furniture industry and has established relationships with over 300 suppliers and manufacturers.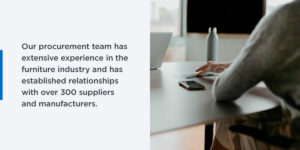 Material sourcing: WB Wood's procurement team can help clients source a wide range of materials, including wood, metal, glass and fabric. We work closely with clients to understand their needs and preferences and then source materials that meet those requirements.
Component sourcing: Besides materials, bank furniture projects often require a wide range of components, such as hardware, hinges and drawer slides. WB Wood's procurement team has established relationships with manufacturers across the globe, allowing them to source high-quality components at competitive prices.
Logistics management: Procuring materials and components for furniture for a financial instituition's project can be a complex process. WB Wood's procurement team manages all material and component sourcing logistics, including ordering, delivery and storage.
Featured Financial Services Furniture
From sleek and modern designs to classic and timeless styles, WB Wood's financial institution furniture is designed to meet the unique needs of banks, from head offices to each branch.
Our featured professional furniture includes a wide range of seating, tables and couches that are both stylish and functional. They also offer custom options, allowing clients to choose from various finishes, fabrics and materials to create a personalized look that reflects our brand and style.
Lobby seating: The lobby is the first point of contact for customers and the furniture you choose for this area can make a big impression. From modern lounge chairs to traditional sofas and loveseats, we have a variety of seating solutions to fit any aesthetic of your space.
Teller stations: Your teller stations need to be functional and secure and provide privacy for customers during transactions. They can be designed to fit your institution's unique needs, whether requiring a simple transaction window or a more complex system with storage and security features.
Desks: WB Wood offers a range of desk solutions designed to meet any financing environment's needs. Our manufacturers can make customized options that fit any space and workflow, including adjustable-height desks and modular workstations.
Conference tables: They can be designed to fit any boardroom size and style. You can also have the option of materials, including wood, glass and metal. They can also have power and data ports to accommodate modern technology needs.
Cabinetry: Custom storage solutions on offer include cabinetry that integrates seamlessly into any space.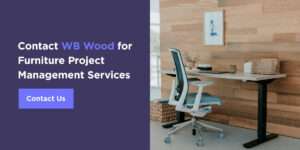 Contact WB Wood for Furniture Project Management Services
WB Wood is the ideal partner for any business looking to create functional and modern spaces for our customers, guests or employees, as we keep our focus on custom furniture, exceptional customer service and project management expertise. With WB Wood, you'll get furniture that is of a high standard and specific to your industry, delivered on time and within budget.
With a rich history as a furniture service provider and management company dating back to 1905, WB Wood has established itself as a leading furniture provider. Our team at WB Wood has years of experience in design, business and technical skills, including a deep understanding of the client side of design. We take the time to truly understand your needs and use our skills to deliver top-notch furniture and project management services that will create a welcoming and efficient work environment.
Whether you're a small or large company, we aim to provide you with the design aesthetic you're looking for with high-quality furniture in mind. Choose WB Wood to bring your furniture vision to life.
Contact WB Wood today to learn more about our services and to start designing your dream furniture project.