Healthcare Furniture Solutions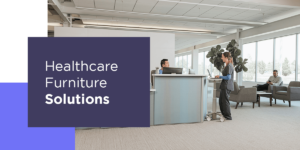 As a healthcare provider, you know that creating a safe and welcoming environment in your facility is essential to the wellbeing and satisfaction of your patients, staff and visitors. The furniture you choose is a crucial element in this process.
With over a century of experience, WB Wood knows furniture and specifically, we know Healthcare furniture.  We understand that your spaces need durable, practical and cost-effective furnishings that will also hold up to the rigors of the healthcare performance standards. That's why we partner with top manufacturers to offer you various healthcare furniture solutions. If you're ready to upgrade your facility with furniture that reflects your commitment to quality care, WB Wood is here to help.
Healthcare Office Redesigns | What Can WB Wood Do for You?
Today there are more furniture choices for healthcare than ever before.   WB Wood will work with you to procure furniture that offers:
Durability: Healthcare furniture is manufactured to withstand the demands of diverse healthcare environments. These products are built for and warrantied for 24/7 use.
Cleanability and infection prevention:  A most important criteria to be considered when choosing furniture products for your patient, staff and/or visitor areas.
Safety: Design details aim to support fall prevention, anti-tipping, advanced ergonomic considerations and easier access.
Customization:  Need a special size or material or feature?  We work with manufacturers willing and able to modify their standard offerings to meet your specific functional needs.
Technology integration: Solutions designed to improve the experience for your staff, patients and their guests are now widely available in healthcare furnishings.
Our team of experts will help you redesign your office, waiting area, or patient areas to optimize your space, enhance the patient experience and create a space that supports the healing environment. At WB Wood, we offer solutions that span many of your functional needs and streamline your purchasing decisions.  We offer casework, patient seating, waiting area seating, tables, technology support & storage.
Project Management Experts
WB Wood's team of professionals is dedicated to providing comprehensive project management services that ensure your redesign is completed on time, within budget and to your exact specifications. Benefits of partnering with us include:
Schedule adherence: Your Project Manager will ensure your project is completed on time and within schedule, minimizing any downtime or impact on patient care.
Cost control: Our project managers are skilled at identifying cost-saving opportunities and developing creative solutions that meet your needs while staying within budget.
Quality assurance: Our team of professionals is dedicated to ensuring all furniture solutions meet or exceed industry standards.
Punch list: We understand that even the smallest details matter in health care settings. Our team of professionals will address all punch list items promptly and efficiently, leaving you with a fully functional and aesthetically pleasing space. 
Healthcare Furniture Procurement
One of the key benefits of working with WB Wood for health care furniture procurement is our extensive network of partners and suppliers. We work with over 300 manufacturers, so we can find the right products to meet your specific needs, from durable and easy-to-clean materials to ergonomic designs promoting patient comfort.
In addition to our network of suppliers, our team of professionals is dedicated to providing personalized service that considers your facility's unique needs. We work closely with you to understand your goals and constraints so we deliver solutions that meet your needs while staying within your budget.
At WB Wood, we understand that health care furniture procurement is more than just selecting products — it's about getting furniture that supports your mission of providing safe, effective and efficient patient care. That's why we take a comprehensive approach to procurement, working with you every step of the way so the furniture you select meets your needs and exceeds your expectations.
Featured Healthcare Furniture
At WB Wood, we offer a wide range of health care furniture solutions specifically designed to meet the industry's unique needs. From patient room furniture to waiting area seating, our products are made with high-quality materials and innovative designs that promote comfort, safety and efficiency.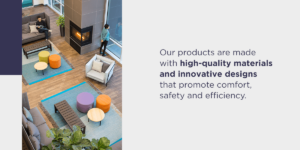 Here are some of our featured health care furniture products that can transform your medical space:
Lobby and Reception Furniture
A health care facility's lobby and reception areas are where first impressions are formed.   This is a space that should convey comfort, wellness, security and a sense of home. At WB Wood, we offer a wide range of lobby and reception furniture, including comfortable couches and armchairs in various colors and designs. The items we offer are durable and easy to clean, making it perfect for the high performance qualities needed in these areas.
Overbed Tables With Wheels
Overbed tables are a staple in most healthcare environments. They are convenient for both patients and visitors. At WB Wood, we can procure overbed tables with quality casters, making it easy for health care staff to move them from room to room or to patients in bed for convenience. Our tables are adjustable, allowing patients to find the perfect height and angle for their needs.
Mobile Technology Carts
Wheeled carts support devices like keyboards, monitors and laptops along with storage for medical devices and other equipment. Health care facility staff can take these carts to patient rooms or exam spaces as needed, minimizing the tech setups you need in each area.
Ergonomic Stools for Dentists
Dentists and dental hygienists spend long hours sitting, leading to back problems and other health issues. At WB Wood, we offer ergonomic stools designed specifically for dental professionals. These chairs feature comfortable seats, adjustable heights and footrests to help maintain proper posture and reduce fatigue. With ergonomic stools, dental staff can focus on providing the best possible care to their patients without sacrificing their own comfort.
Hygiene Accessories
Safeguard your patients and personnel with sanitizer stations that combine practicality with aesthetics to complement your facility. Help prevent the spread of germs in your health care office with hygiene accessories that fit into your facility redesign.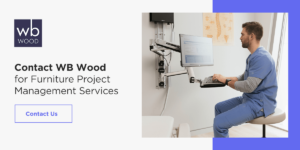 Contact WB Wood for Furniture Project Management Services
With our experience in multidisciplinary areas, including the client side of design, our team is committed to helping you achieve your vision while maintaining a strict budget and adhering to all necessary hygiene standards.
If you want to redesign your health care office, hospital or medical facility with solutions that align with your unique needs, look no further than WB Wood for health care furniture project management. Our project management experts will work with you every step of the way to ensure your project is completed on time, within budget and to the highest quality standards.
Don't let furniture procurement and project management overwhelm you. With our years of experience serving the health care industry, we understand the importance of creating a comfortable and functional space while adhering to strict budgetary and hygiene requirements. Let us help you create a welcoming environment for your patients and staff.
Get in touch today to get started.