Law Firm Furniture Solutions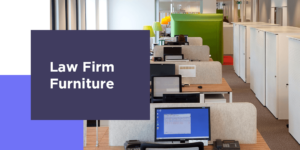 Your office sets the mood for your clients. You want them to feel welcome yet aware of your knowledge and experience, which is why your office design is so crucial. The furniture you choose for your law office is what your clients see upon entering. By choosing elegant and professional pieces with a touch of personalization, you can create a more productive work environment for your employees and a more comfortable office for your clients.
What to Consider?
Before you decide what office furniture you want for your law firm, there are several factors to consider to maximize your space and display your creativity. Consider your:
Available space: Smaller offices may benefit more from a classic interior design with workstations and other space-saving furniture, while larger offices can utilize a more modern layout.
Budget: Knowing how much you can invest in your furniture helps you determine what elements your redesign can include.
Office layout: Furniture arrangement plays a vital role in setting the tone for your office. Employees need ample space to work, and there should be plenty of space between workstations for client privacy.
Preferences: The material you choose for your desks conveys your style to your clients. You'll want a balance of style and durability to make the most of your investment.
6 Law Office Design Ideas
Once you know what you have to work with, you can think about various design ideas to find one that resonates with you. Here are six law office design tips:
Take advantage of natural light: Let in as much natural light as possible in your law office. Natural lighting makes an office appear more expansive and creates a sense of fluidity between the different areas. Aside from these benefits, it also provides other benefits such as greater productivity, lower stress, reduced eye strain and headaches and lower energy bills.
Consider modern design trends: Modern design trends look sleek and professional and show that you're adaptable.
Make a statement with desks: Desks are the centerpiece of an office, so you choose ones that reflect your values and style. Personalize your desk with family photos or other things that interest you to help your clients connect with you.
Consider minimalism: Minimalist designs can make your office feel neat and professional. You can still incorporate colors, furniture and designs that will help your clients relax.
Think about the walls: The walls are the perfect place to display your credentials so clients know how knowledgeable and experienced you are. In addition to your credentials, you can display wall art and pictures. Glass walls are also a popular choice for law offices because they evoke a feeling of transparency and let you see what's going on in your firm. Plus, they look elegant and polished.
Add decor: A law office can be professional and well-decorated. Adding comfortable lounge chairs for guests, decorative throw pillows and nice area rugs can tie everything together.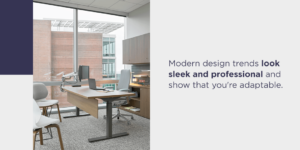 Our Law Firm Furniture Procurement Services
The WB Wood team works alongside your architects, consultants and designers to make your vision for your law office furniture a reality. Our office project management services include:
Project budgeting: We can provide you with a cost breakdown upon request so you have a better idea of your total investment.
Schedule adherence: We utilize scheduling tools to maintain excellent project communication between our clients and our team and keep projects flowing and on schedule.
Cost control: Our experience allows us to control costs and offer our clients cost-saving opportunities while still presenting numerous furniture options.
Quality assurance: We have the reputation and resources we have because we pay close attention to the quality of our work. Our clients deserve the best, so it's a good thing that's all we offer. We have strict quality control measures in place every step of the way.
Delivery: We streamlined our delivery process by preparing for delivery in the beginning stages of a project. Additionally, we schedule orders for direct delivery whenever possible.
Installation: Our installation team has the experience and expertise to safely handle anything you order from us. They also work closely with our planning team, architects and contractors to ensure everything goes smoothly.
A punch list: A punch list is a checklist that details all the remaining work for a project. We check off every item before your final walk-through.
Office furniture liquidation: We can assist you in liquidating your existing furniture.
Ongoing support: We value the relationships we build, which is why we provide support throughout the entire project and afterward.
What WB Wood Can Do for You
WB Wood specializes in project management and attorney office furniture procurement. We're a Haworth Best in Class Dealer and are partnered with 300 other manufacturing companies around the world. We have the law firm furniture solutions to transform your law office into what you want it to be while staying within your budget.
We can procure a wide selection of premium furniture to upgrade your law office. You might be interested in: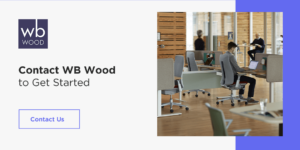 Contact WB Wood to Get Started
WB Wood can help you transform your office into the one of your dreams. We can procure the law firm furniture you need and support you every step of the way. Our staff is experienced in multiple areas of office design and will take the time to understand your goals so we can help you choose the perfect furniture to make your office what you want it to be. Contact us today to get started!
Our highly skilled team has years of experience in design, business and technical fields. Our expertise in client-side design ensures that we understand your unique needs and preferences. Additionally, as partners with over 300 manufacturers, we can offer a wide range of furniture solutions to fit your design and budget requirements.
So why wait? Contact WB Wood today to learn more about our hospitality furniture solutions and how we can help you create the perfect space for your business.