New Jersey Furniture Project Management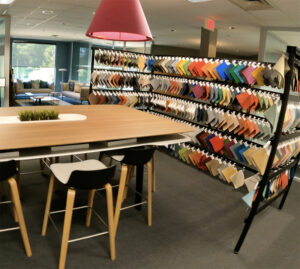 As a furniture service provider and project management company, WB Wood can enhance your office spaces. We focus on human-centered design to help companies replace existing furniture or plan new office areas. If you seek furniture project management in New Jersey, come to us for an office space that meets every need.
We draw on over 100 years of expertise to serve our clients. Our long history in the industry has also allowed us to build connections with top brands. We use these connections to create spaces that fit your vision. Throughout every step of project planning, we account for the minutest details for every client we serve.
Who We Are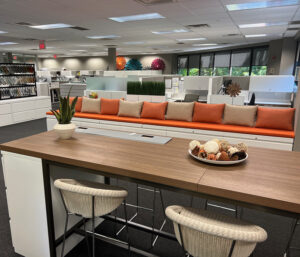 WB Wood provides project management and furniture procurement in New Jersey and throughout the U.S. We work alongside consultants, design firms and architects to help our clients create their dream spaces with quality furniture and other design elements. We consider your unique needs and our own experiences in every project we undertake.
Our design approach focuses on clear communication with your teams. We ensure everyone is on the same page to achieve results that exceed expectations. We will discuss topics like:
Construction schedules
Client approval for furniture
Status of quotes, orders and ship dates
Budget data
WB Wood's Services
We provide New Jersey furniture project management. Depending on the needs of the businesses we work with, we deliver different services, including:
Budget proposals: After receiving a request for a proposal, we can create a budget for furniture costs, delivery and installation fees. Then we'll provide documentation about changes and work to offer value within the budget.
Quality control: From the furniture choices we make to the installation process, we follow a rigorous procedure to provide results clients can rely on.
Office furniture liquidation: If clients desire to sell old furniture, we can recommend quality liquidators who might buy it back.
Ongoing support: We walk alongside the organizations we serve from the beginning stages of a project to the end and beyond.
Types of Furniture Offered
WB Wood is here to help you upgrade or enhance your office layout with various furniture options that create a more usable and attractive environment. Our furniture offerings include:
When designing an office space, it is crucial to have many quality options at your fingertips. For this reason, WB Wood partners with 300 manufacturers to aid every client in constructing a workspace to meet individual needs. We are proud to be a Haworth Best in Class Dealer. Through this partnership, we can provide their office furniture and access other design and technology brands. We also supply products from brands like Bernhardt Design Furniture Company and Tuohy Furniture.
Get in Touch About Your Project
When you choose WB WOOD for your furniture procurement or management needs, we will consider your needs to provide unparalleled solutions. We love to ask questions and get to know each client we serve so we can match your office furniture management to your timeline, budget and aesthetics.
At WB Wood, we can make your office more functional and stylish than ever before. Allow us to bring your ideas to life by phoning our office at 908-901-0001 or getting in touch online.
Whether you're moving into a new office environment or enhancing an existing workspace, WB Wood will help you find the perfect furniture and accessories to fulfill your goals and fit your budget. Fill out the form below and we will contact you shortly.