Architectural Interiors & Dividers
The Inspiration Bar above features some popular architectural offerings from our distinguished list of partners and manufacturers.
Click on the images to learn more.
Architectural Interiors and Dividers are used to create engaging spaces that enhance productivity and improve well-being. WB Wood offers numerous custom enclosures and moveable office dividers that can be seamlessly arranged and rearranged to support your ever-changing office needs and aesthetics. From freestanding architectural interiors to moveable privacy screens, WB Wood can show you a variety of office partition solutions for every budget.
Adding an architectural element to your existing floorplan can enhance workspace flexibility, versatility, and responsiveness. You can leverage current real estate in new ways to create inviting environments that support employee workstyles to keep them engaged. WB Wood will help you find office workspace architectural solutions that offer a sense of privacy so people can claim control, reduce stress, and optimize performance.
Architectural Interiors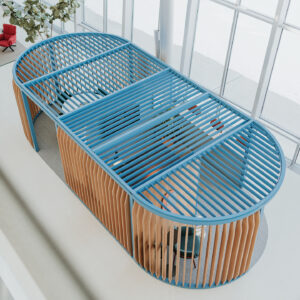 The addition of an architectural interior to a large open office workspace can help create a more intimate atmosphere within the overall floorplan. It not only makes a statement about your company brand and culture but also provides a stylish oasis for people to gather. Freestanding architectural interiors such as the PERGOLA from Haworth can function as a room divider, and provide a unique space where people can get away to connect, collaborate, or focus. WB Wood can help you determine what type of solution and configuration will provide the most functionality and privacy to enhance your new or existing floorplan.
Glass and Moveable Walls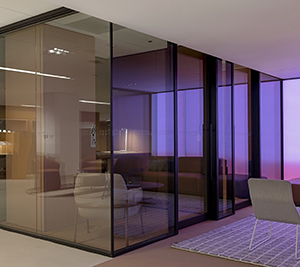 Creating a private space is easy with flexible office wall systems that bring together the best traits of factory-built modular walls with the customizability of traditional walls. Office wall partitions provide the ultimate space planning freedom, letting you fine-tune aesthetics, visual and acoustical privacy, and budget. Whether you're looking for a wall system that looks like permanent construction or a glass wall unit that can be reconfigured for future changes, WB Wood will connect you with a variety of options in glass, metal, laminate, wall coverings, wood, and more.
Architectural Room Dividers and Privacy Screens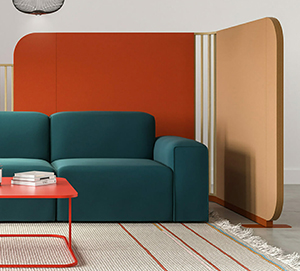 WB Wood offers a variety of dividers and privacy screens to create temporary or long-term office workspace options. A privacy screen or divider has multiple uses, including the reduction of visual distractions and noise as well as the enforcement of greater social distancing and direction of traffic circulation. Moveable office dividers can define an area for an impromptu meeting, a temporary collaboration space, or for employees who need a more isolated workspace to think and focus. Other forms of dividers integrate with the surrounding interior landscape, easing the visual gap that often occurs between architecture and furniture, bringing balance to the floorplate.
Seeking Ways to Divide
Your Space?
Are you thinking about making changes to your office layout? This overview video is a great place to start when you need to brainstorm some ideas about the most effective way to divide up your office space. The video shows examples of moveable glass and panel walls, freestanding architectural workspaces, and room dividers that can be used to delineate different areas within a larger footprint.
FEATURED ARCHITECTURAL INTERIOR
The HUSHOFFICE series of freestanding acoustic pods from Haworth will quickly and seamlessly fit into open-plan environments—without construction—and be moved when needed.
HUSHPHONE is a private acoustic space for a confidential phone and video calls, or individual focus work.
HUSHHYBRID features a built-in table, soft seating, and LED lighting, the perfect go-to location for solo work and video calls.
HUSHMEET is an acoustic pod that's perfect for group meetings, collaborative work, and more. Table and benches provide space for up to four people.
HUSHACCESS.L is a freestanding acoustic pod for groups and fits in your space without modifying your floorplate.
Need Help Choosing Your Architectural Interior & Divider Elements?
Whether you're moving into a new office environment or enhancing an existing workspace, WB Wood will help you find the perfect furniture and accessories to fulfill your goals and fit your budget. Fill out the form below and we will contact you shortly.