The Inspiration Bar above features some popular lighting options from our distinguished list of partners and manufacturers.
Click on the images to learn more.
The importance of good office lighting cannot be overstated. A poorly lit office can affect the mood, energy level, and productivity of your employees. While a workspace that is too bright can be hard on the eyes and even lead to headaches for some highly sensitive people. A good balance of both warm lighting and a bright atmosphere will energize your team, and keep them comfortable and creative for their daily tasks.
There are many different types of lighting options you may consider when creating your office design, including ceiling mounts, chandeliers and pendants, floor lamps, table or task lamps, and wall sconces Task lights on the desktop help to supplement the overhead lighting and reduce eye strain, improve computer-based reading comfort and reduce energy use and costs. When overhead fluorescent lighting is considered too harsh for some people, WB Wood can show you fully dimmable LED light options that cast both direct and indirect light to bring comfortable warmth and sophistication to any setting.
Ambient Lighting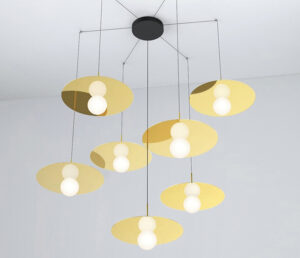 Ambient lighting is illumination that is bright and powerful and provides uniform levels of lighting over an entire room or workspace. This type of lighting creates a consistent presence throughout the room as ambient light bounces off the walls to fully illuminate the space. WB Wood has access to many different types of ambient lighting options, including ceiling- or wall-mounted fixtures, track lighting, chandeliers, recessed fixtures, LED downlights, floor lamps, and more. With so many styles, colors, and designs to choose from, we can help you find the perfect illumination options to enhance your workspace.
Task Lighting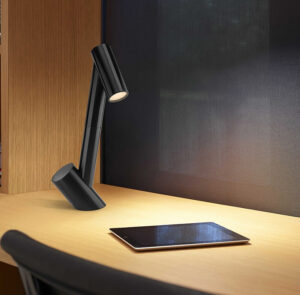 Not all work areas or projects need the same type of illumination, so task lighting is available to provide functionality and versatility in smaller spaces. Many types of task lighting can change heights or angles, with multiple areas of articulation to aim the direction of the light wherever it is needed. This is extremely helpful when working on a computer or in a work area, where the option to brighten or dim the lighting is essential. Whether you're looking for a lighting source to sit on your desk or the floor, be clamped to the side of the desk, or mounted on the wall, WB Wood will help you sort through the multitude of options to find the right luminosity for your workspace.
Accent and Decorative Lighting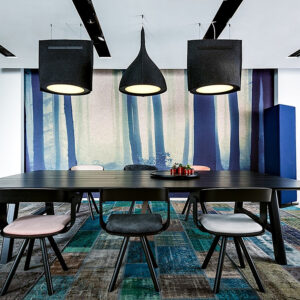 If you wish to highlight certain areas or elements in your office space, accent and decorative lighting can help you make those objects stand out. Or perhaps you want to make a statement with a special lamp or a cool wall fixture. Accent lighting can be used to highlight architectural features, sculptures, art, awards, or anything else that requires a special focus. Decorative lighting can create a positive feeling in major traffic areas in the office or provide a warm respite in areas where you may want a less-formal setting.
Ready to Light Things Up?
.
If you're trying to shed more light on your workspace, this overview video is a great place to start. The short video, with footage from some of our 300+ manufacturers, features a selection of the latest office lighting options available. The video shows examples of overhead lighting, wall units, task lighting, floor lamps, and many other varieties in various styles, colors, and designs.
FEATURED LIGHTING OPTION
The handblown Murano glass LED lamps "I FLAUTI", meaning The Flutes, from SUITE NY were designed by the Anglo-Italian design team Giopato & Coombes. The lights combine tradition and technology in the search for a new equilibrium between innovation and its context. This contrast creates an object almost lost in time, frozen between the past and the future.
The "I FLAUTI" lamps are made of hand-blown glass and turned brass, both high-quality materials and processes. The glass modules mix different traditional techniques of Murano glassblowing such as "ballotòn" and "filigrana", and match historical Venetian colors that recall romantic sunsets over the floating city.
Need Help Choosing Your Office Lighting?
Whether you're moving into a new office environment or enhancing an existing workspace, WB Wood will help you find the perfect furniture and accessories to fulfill your goals and fit your budget. Fill out the form below and we will contact you shortly.