The Inspiration Bar above features some popular seating options from our distinguished list of partners and manufacturers.
Click on the images to learn more.
From the Executive Office to the Employee Lounge, WB Wood is pleased to provide a wide array of seating options to complement your workspace and keep your employees comfortable and focused. From high-performing ergonomic office chairs to cozy and comfortable guest or lounge seating, WB Wood will help you find the right fit to enhance your company and culture. No matter what your budget requires, we will find a selection of seating options to fit your needs.
Whether you're looking for luxury or high-end office chairs, modern office chairs, or ergonomic office chairs, WB Wood has access to a range of seating options from hundreds of manufacturers. The Inspiration Bar above contains a sampling of the types of seating that go along with our office workspace solutions available to New York and New Jersey businesses, as well as companies around the world. If you're looking for something specific, please fill out the form at the bottom of this page and we'll be happy to reach out to answer your questions.
TASK AND DESK CHAIRS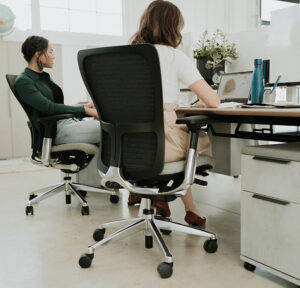 There are few things in the workplace that evoke a stronger physical and emotional attachment than a person's chair. It's the center of work. The surface on which they spend most of their working day. Our task seating options provide the comfort people need to get into the flow (also known as the zone)—the mental state that allows for full immersion in an activity where people are highly productive and creative. When their cognitive performance is enhanced, people are more engaged, and organizations succeed. Each task or desk chair in our collection was designed with a purpose, in its own form, offering choices that lead to peak performance for individuals.
GUEST AND MULTI-FUNCTION CHAIRS

Guest chairs are often found in reception areas, waiting rooms, cafes, or lobbies. While the visual appeal of a guest chair is certainly important, you also want to consider the comfort level a particular chair provides for your clients or visitors. Sometimes the guest chair is the first impression a potential client will have of your company, so it's important that you find a mix of comfort and aesthetics to create a pleasant customer experience. With hundreds of options from our distinctive collection of partners and manufacturers, WB Wood will help you find the perfect choice to enhance your guest areas.
CONFERENCE ROOM SEATING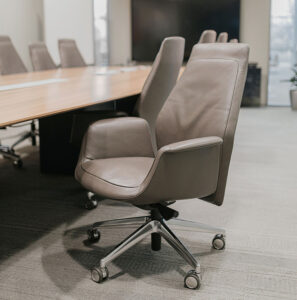 Seating for a conference or board room is different from traditional task seating. Most conference room chairs are designed to be used during short-term events, such as business meetings or sales presentations. They don't feature all the adjustment options or flexibility of a traditional task chair but are still supportive and comfortable for group gatherings. When considering the seating options for your conference room area, it is important to avoid height adjustable arms or a pneumatic lift because it can damage both the chair arms and the table when they bump. Choosing the proper casters (either for hard floor or carpeted floor) is also something to be aware of. WB Wood can help you hone in on your best options.
LOUNGE/RECEPTION SEATING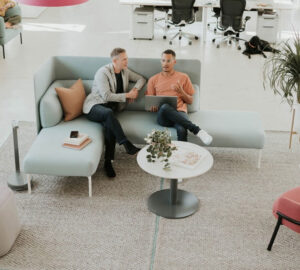 When teams come together to collaborate, they want to congregate in a comfortable space that encourages creativity and brainstorming. That's where lounge seating comes in. It can transform a traditional space into a more synergistic environment, allowing employees to leave their individual workstations in favor of a more relaxing, casual atmosphere. Lounge seating comes in all shapes, sizes, and configurations, so it's important to know your space and requirements before navigating the many possibilities. With so many options to consider, you'll be happy to learn that WB WOOD has in-house seating experts to help guide you through the selection process.
Need to find chairs for your office or workspace? This overview video is a great place to start when you need to see what kinds of chairs are available for different office areas. The video shows examples of task chairs, lounge chairs, reception chairs, stools, conference room chairs, classroom chairs, and waiting room chairs in a variety of colors, styles, and mediums.
Need to create some comfortable and cozy areas in your office or workspace? This overview video is a great place to start when you need to brainstorm some ideas for a new lounge area. This short video features some of the latest lounge furniture options available. The video shows examples of couches, sofas, and benches in various styles, colors and configurations.
FEATURED SEATING OPTION

Introducing the first dual posture task chairs designed for use with height-adjustable tables—to support sitting and "perching" postures. The ZODY II and ZODY LX from Haworth deliver new design choices, enhanced sustainability, and unmatched ergonomic comfort for more people and more postures.

ZODY II and ZODY LX Task Chairs are the first ergonomic task chairs to be Cradle to Cradle Certified® Bronze under the Version 4.0 standard — the most rigorous standard yet for creating products that enable a healthy, equitable, and sustainable tomorrow. The  ZODY II and ZODY LX Task Chairs provide extensive design choices, sustainability, and unmatched ergonomic comfort for more people and postures.
Need Help Choosing Your Office Seating?
Whether you're moving into a new office environment or enhancing an existing workspace, WB Wood will help you find the perfect furniture and accessories to fulfill your goals and fit your budget. Fill out the form below and we will contact you shortly.