Your office reception seating is a place for teams to come together in a comfortable environment. It's an opportunity for your visitors to relax while they wait for meetings. A refreshing lobby can help manage employee stress levels and leave a positive impression on guests.
WB Wood has a team of experts with various brands and options to help you select the perfect reception seating to build a relaxing and innovative environment for your team.
The Variations of Office Reception Seating
WB Wood can guide you through selecting a seating option that meets your décor, budget and style preferences. We offer diverse and inclusive seating options, from comfortable single lounge seats to bariatric options, so everyone can feel welcome and comfortable in your office lobby environment. Our seating covers both employee and guest needs.
Lounge Furniture
Lounge seating features couches and cushioned seats designed for maximum comfort. We have everything, from individual wing chairs to couches and loveseats, in every shape, size and color scheme you might need.
Each one of these options has an architectural, modern aesthetic from Haworth's award-winning design team, or one of our other 300 manufacturers. There's no seating design too unique, with seats shaped like puzzle pieces to tall office-like chairs that feature acoustical absorption to reduce external noise.
Guest Seating
WB Wood has a curated collection of guest seating options, including everything from rolling office chairs and high side stools to single lounge chairs and more. These multifunctional chairs are the perfect solution for seating guests in a waiting area at your office and encouraging them to relax.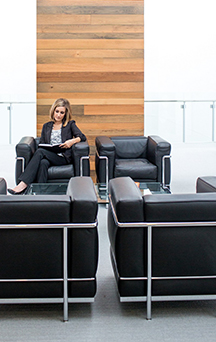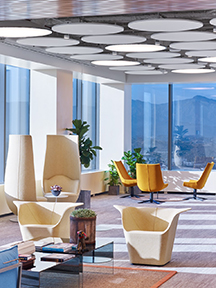 Benefits of Modern Reception Furniture
Office seating is crucial in building a corporate culture for employees and guests. You have full control over your office space, so choosing the right furniture is a must.
Advantages to choosing high-quality furnishings for your office environment include:
Work-life balance: Office reception seating can balance the comfortable environment of home with the resources of an office environment, like high-speed internet connection and fast printing. When you combine these two factors, employees have an opportunity to unwind, decompress and focus on work when they need a break from their desks.
First impressions: Some people form their first impressions as soon as they see a room. New employees and guests will decide what they think of your company based on its appearance, whether intentional or not.
Brand story: The type of furniture you choose tells a story. Quirky furniture, like puzzle piece seats, communicates creativity and innovation. Comfortable, professional seats invite guests to relax in a business environment.
Mindset: People tend to let their guard down in an inviting environment. That's why a shared office area can be an excellent place for important meetings and performance reviews — the seating can lower the potential nervousness.
FEATURED RECEPTION SEATING
The POPPY office lounge chair from Haworth helps furnish comfortable, flexible spaces that support a variety of work processes. The soft and inviting aesthetic allows this indoor lounge chair to fit into any office area, from the lobby to the meeting rooms.
POPPY office lounge chair offers a light aesthetic through its organic shape, curved lines, and an array of inviting colors. This indoor lounge chair comes in two base styles to accommodate variety in aesthetics and application.
The POPPY chair has 3 base designs: Basket, wood dowel w/360° swivel, or wood dowel with a self-centering mechanism. The wood dowel base is available in Clear on Oak, Clear on Walnut, or Ink on Ash finish.
Contact WB Wood for Office Lobby Seating Needs
WB Wood is a prominent furniture service provider and management company connecting workspaces with premium furniture solutions. We can help you find the perfect modern lounge chair to match your office environment.
Ready to take the next step? Read more about our office lobby seating options to find what interests you. You can also call us at 212-647-6200 or contact us online to connect with a furniture expert today.