The Inspiration Bar above features some popular storage options from our distinguished list of partners and manufacturers.
Click on the images to learn more.
Storage is a necessary component of every office space. But with workspace footprints getting smaller and smaller, storage areas are no longer hidden away in a back corner. They are now seamlessly integrated into the office configuration through innovative design and multi-purpose functionality. Our workspace experts at WB Wood can show you how different storage options will contribute to your well-organized workspace—bringing space and people together to maximize collaboration and support well-being.
While many companies are moving toward a paperless environment, and storage no longer commands the large footprint it once required, it still remains a critical element in the workplace. There will always be storage needs. Here are a few examples:
• Some organizations must have filing cabinets to retain paper records for compliance purposes.
• Pantries and storage spaces for supplies are needed to support work teams.
• Employees need places to hold work materials and personal items.
Personal Storage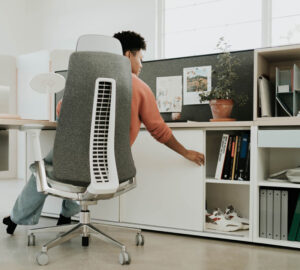 Every team member in an organization deserves to have access to an area where they can store their personal items during the workday. By providing a space for people to put their coats, bags, and other loose items, you are creating a tidy, secure environment where employees can feel safe and productive. Lockers and mobile pedestals are a great choice for personal storage as they give people a place to shut or lock away all their non-essential items during the workday, leaving their workspaces free from clutter. Many personal storage options can also be integrated into the workstation area, optimizing office space, and creating a more streamlined look.
Shared Storage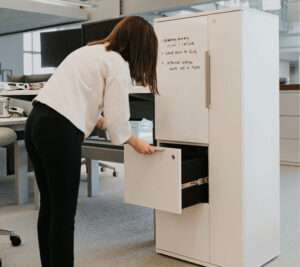 There are many options when it comes to general storage systems for your office space — file cabinets, office shelving, lockers, file carts, towers, wardrobes, and small office storage cabinets. There are also storage systems that integrate power and provide markerboard surfaces to support users with multi-functional and customizable storage. And to promote an overall sense of safety and well-being, storage cabinets with locks allow sensitive materials or important documents to be securely locked away until needed.
Storage Credenzas and Bookcases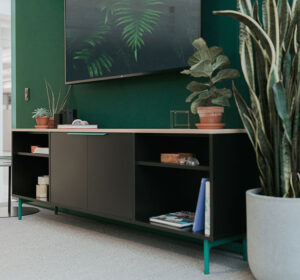 Bookcases are an essential piece of office furniture because they can be used in many ways. Besides an obvious housing unit for books and magazines, a bookcase can be used to hold other items such as awards, company memorabilia, personal items, or electronic devices. And with very little effort, you can change and rearrange items on a bookcase to suit your current needs. A credenza is a cabinet-style piece of furniture that serves a similar purpose as a bookcase. The top of the credenza is typically used as a sideboard or buffet, or to display various company artifacts, while the underneath area usually consists of shelves and drawers that can house items you don't necessarily want to be visible.
Need to Secure Your Storage For Offices?
.
Need to create safe and secure spaces to store your important documents and your employees' personal items? This short overview video is a great place to start when you need to brainstorm some ideas for incorporating storage solutions into your floor plan. The video shows examples of secure storage cabinets and lockers, mobile units, bookcases, credenzas, and other unique options in various styles, colors, and designs.
FEATURED OFFICE STORAGE OPTION

EVO SCREEN from #SLYDEINNOVATIONS is the perfect combination of adaptable space division and agile storage all in one. Form meets function in perfect harmony here. The EVO's sleek and modular design allows you to build your own base cabinet and metal frame, all in combination with hundreds of insert options.

EVO SCREEN is the most flexible and stylish solution for adapting to hybrid layouts and modern working expectations. The attention given to its functionality and "feel" cannot be understated, allowing for contemporary workspaces supporting ease of movement and mind, both in the office and at home. With a vast list of optional inserts such as markerboard, felt, glass, and more, you can be sure the EVO caters to your exact needs and look.
Need Help Choosing Your Office Storage?
Whether you're moving into a new office environment or enhancing an existing workspace, WB Wood will help you find the perfect furniture and accessories to fulfill your goals and fit your budget. Fill out the form below and we will contact you shortly.