A modern office cabinet is a powerful tool to maximize productivity for your team and create a corporate culture that values organization and efficiency. Flexible, freestanding storage cabinets can provide space for financial records, books, office supplies and more. Proper storage helps you create a tidy and comfortable environment where employees feel safe and secure, knowing that they always have the necessary resources on hand to complete their work tasks.
WB WOOD has more than 10 decades of experience helping offices add efficiency and style to the workplace with executive office cabinets. See how we can help you achieve peak organization with the products we provide.
The Variations of Office Storage Cabinets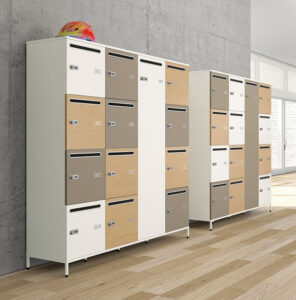 Office storage cabinets are a critical tool for helping organizations maintain paper records for compliance, organize storage space for work teams and allow employees to store personal and work items.
There are many types of office storage cabinets in various shapes and sizes, from decorative and functional wooden office cabinets to steel storage towers designed for maximum security.
Two categories for these office cabinets include personal storage and shared office storage. Personal storage features lockers and mobile pedestals so that employees can shut or lock away their private valuables and sensitive work materials. These storage units also come with options for integrating the cabinet into the desk and office space for a sophisticated design.
Shared storage spaces are another category of solutions designed as multifunctional tools. Examples include office shelves, file cabinets, lockers and more. Many of these cabinet options come with special features like power sources, whiteboard surfaces, digital locks and wear-resistant surfaces like steel.
Benefits of Office Storage Cabinets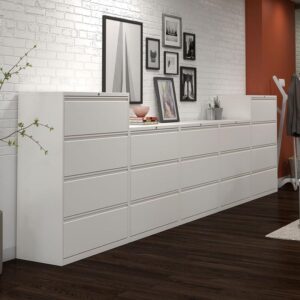 Office storage cabinets have a wide variety of benefits for optimizing your workplace. The largest value is their cabinetry, which serves as a space-saving tool. Limited space can make it difficult for your team to find necessary resources and, in some cases, navigate around file boxes and other clutter. Cabinets integrated into desks can help you organize various materials and add significant space to your office area.
This organization also presents a far more positive view of your corporate culture. When a new hire enters the office area, they will see the value placed on cleanliness and order. Organizational psychology reveals that an organized workspace can bring tranquility and calm. It also boosts productivity with less time spent searching for information or resources and more time invested in deep work.
Storage cabinets feature security options like a steel surface and digital locks to protect valuable information. Companies in the financial, medical and security sectors need these resources to comply with regulations, making these products critical additions to offices.
FEATURED STORAGE OPTION
The floorplan of today requires flexibility. The expansive ZO collection from Watson Furniture offers the freedom of options. From private offices to safe storage spaces for teams that rotate in and out, ZO unifies the appearance of storage elements throughout the floorplan and allows for multiple styles of work to support any office environment.
ZO's expansive offering unifies the appearance of storage elements throughout the floor plan. Robust construction, concealed hardware and contrasting finish options support the most demanding office environments.
Tight on space? ZO Lockers are ideal for busy and compact spaces alike, these lockers conceal valuable tools and technology with plenty of room for personal gear.
Contact WB WOOD for Your Office Storage Cabinet Procurement Needs
WB WOOD has been helping offices optimize their workspaces with furniture project management and procurement solutions for over 115 years. That's why we're confident we can help you find the ideal office storage cabinet for your team.
Want to explore your options? Browse more information on office storage cabinets now. You can also reach out to our team by phone at 212-647-6200 or fill out a form online.