The Inspiration Bar above features some popular workspace options from our distinguished list of partners and manufacturers.
Click on the images to learn more.
Creating an office environment that is both functional and comfortable can sometimes be a challenge. Especially when the area most companies are able to allocate for a traditional workspace has been getting smaller and smaller over the years. The most common desk or workstation seen in open space floor plans is a 6'x6' L-shaped configuration. With that amount of room to provide adequate work and storage areas, our roster of manufacturers has come up with some creative and original ways to make every inch of the workspace count.
WB WOOD offers a wide range of workspace options you can easily configure and reconfigure to support changing business needs without buying all new components for each reconfiguration. From height-adjustable benching tables to private office furniture systems, WB WOOD offers tailored and customized options for every price point.
WORKSTATIONS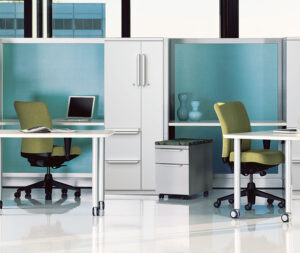 There are so many things to consider when choosing the right workstations for your company, such as size, functionality, storage, and whether it offers easy access to power. Luckily, there are many options to choose from, and WB WOOD will help you sort through the choices based on your floorplan requirements. The popular adjustable office workstation option allows users to change postures throughout the workday effortlessly while promoting a healthy and balanced level of activity in the workplace. You might also consider a benching system that merges personal storage, collaboration stations, and architectural millwork to create workstations that deliver the driving aesthetic of an office.
PRIVACY BOOTHS AND DESKS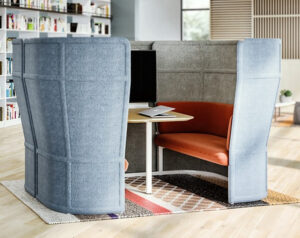 A Privacy Desk is a secluded space where focused work happens—spacious yet cozy with plenty of room to spread out. An example is the OPENEST CONFERENCE BOOTH from HAWORTH, which provides visual privacy and can be a sound barrier in the office to help separate spaces and create an area that supports collaboration. The booths or desks are freestanding units that can accommodate one or more persons. Some even provide guest seating or a sofa to accommodate interactions or collaborative work.
WALL-MOUNTED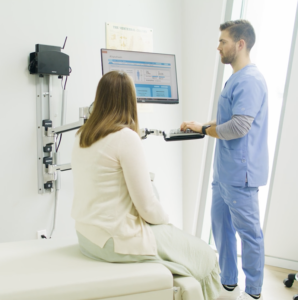 In tight spaces, patient rooms, common areas, or hallways, wall-mounted workstations offer space-saving, stowable solutions that adapt to each caregiver for computer use, writing, and other tasks. In most instances, the monitor, keyboard, and mouse move together using a single handle. These compact workstations can be set up nearly everywhere, providing reliable access to data and technology to support flexible workflows. In hospitals, the wall-mounted units bring technology to the point of need and ergonomically support a variety of postures to meet the unique needs of each caregiver during each shift.
FEATURED WORKSPACE OPTION

Compose office workstation furniture from HAWORTH offers the adaptive functionality needed for ever-changing workstyles and environments. Compose dual workstation desks are both versatile and customizable to fit a variety of floorplates.
Easily configure and reconfigure applications to support changing business needs without buying all new components for each reconfiguration. Compose office workstation furniture is versatile, so you'll always get the most from your investment. Compose is more than workstation desks – with flexibility and amenities, Compose supports vibrant workspaces.
Need Help Choosing Your Office Workspaces?
Whether you're moving into a new office environment or enhancing an existing workspace, WB WOOD will help you find the perfect furniture and accessories to fulfill your goals and fit your budget. Fill out the form below and we will contact you shortly.