WB Wood is proud to be a Haworth Best in Class Dealer and represent its deep portfolio of products. The two companies work together seamlessly to create intelligent and inspirational environments that align people and space for optimal performance.
Haworth, headquartered in Holland, Michigan, designs and manufactures adaptable workspaces, including systems furniture, seating, storage, movable walls, and wood casegoods. Working with WB Wood gives you access to all Haworth products, including Haworth Zody chair and Haworth Fern chair; Haworth Openest collection; Compose workspaces, and the freestanding architectural workspace called Haworth Pergola workspace. The WB Wood and Haworth partnership also includes additional design and technology brands such as Janus et Cie, BuzziSpace, Cassina, Cappellini, Poltrona Frau, Tuohy, Gan Rugs, Pablo Lighting, and Bluescape.

Founded by G.W. Haworth in 1948, Haworth is a privately held, global leader in the contract furnishings industry. What began from humble roots — crafting wood furnishings in a Midwestern town on the shores of Lake Michigan — has evolved into a global company with a focus on Organic Workspace that helps people perform their best.
Haworth's three pillars—combined—are what differentiate them:
Family-Owned, Global Expertise, and Design Led.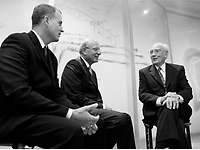 Family-Owned
As a family-owned, privately held, $2 billion global company, Haworth can plan for the long term. They don't make decisions based on a single financial quarter. Family ownership and accountability lead to Haworth making investments for the future to benefit their clients, members, and communities.
.
Global Expertise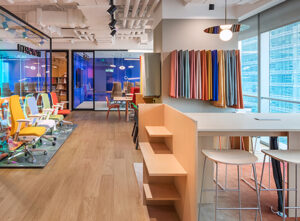 Haworth designs, sources, and manufactures products in the markets where they are delivered, ensuring solutions are tailored for distinct cultures and client preferences, greater agility, and more sustainable sourcing.  With their global footprint and diversity of ideas, Haworth delivers the best in design thinking to clients wherever they are in the world.
.
Design Led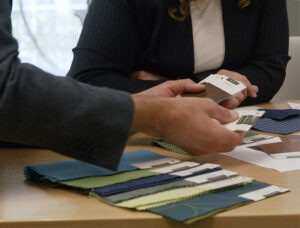 Haworth balances performance and desire in everything they do for clients.  With Design Centers in Italy, Germany, China, and the US., Haworth scouts internationally for talent and partners with today's leading architects and designers to bring clients fresh ideas and the best possible products and solutions.
.
Learn more about Haworth in this short video
The breadth and strength of the Haworth portfolio form the foundation for creating Organic Workspaces, keeping your business nimble, and making the most out of your investment. Haworth and WB Wood are your partners in transforming space, no matter where you're located.
The Haworth Values
The Haworth Values define our business behavior and inform our decisions. While they have been modified several times since being committed to paper in 1976, our Values have guided Haworth throughout three generations of family leadership. They are our foundation for today's activities and tomorrow's growth—in the global markets we serve and the communities where we live.
………….We listen to our Customers

………….

We rely on our Members


………….

We honor Integrity


………….

We embrace Continuous Learning


………….

We lead with Design


………….

We create Value


………….

We work to make the World better
Visit the Haworth NYC Showroom
If you're in the New York City area and would like one of our furniture specialists to give you a guided tour of the Haworth NYC showroom, please fill out the form below and someone will reach out to you with details.