WB Wood Office Furniture Solutions
WB Wood furniture serves a unique purpose in your office space. With our services, we can help you increase ergonomics for your workers. Our high-quality pieces and design ideas foster collaboration, help increase productivity, and make team members more positive in the office.
We have partnerships with over 300 manufacturers, so our furniture selection can accommodate any style or budget. Learn more about our office furniture solutions and services today!
Modern Office Furniture and Collaborative Office Furniture
At WB Wood, we partner with industry-leading innovators to provide numerous types of office furniture. Our various partnerships enable us to offer a wide variety of high-quality options, including:
Accessories: We can help you find numerous types of office accessories. Examples of products include floor and wall decor, organization items, convenience carts, products for sound reduction, and workplace hygiene items. These accessories will allow you to give your office variety and meaning.
Dividers and architectural interiors: WB Wood provides moveable office dividers, custom enclosures, and privacy screens. Architectural interiors allow you to increase versatility and create an intimate atmosphere in an open floor plan. Our interiors and dividers will enable you to decide which setup will work best for your floorplan and office needs.
Seating: The right chairs help your employees stay on track and feel comfortable, and you can choose some of the best options with WB Wood. We offer everything from desk chairs to guest, conference room, and lounge seating. Ensure everyone in your office has a comfortable place to sit with our products.
Storage: If you need different storage options in your office, look through our inventory. We provide shared and personal storage space, bookcases, and credenzas.
Tables: Your office needs tables, and WB WOOD can provide them. We have choices for collaboration spaces, conference rooms, and indoor/outdoor dining areas.
Workspaces: We provide wall-mounted desks, privacy booths, standard desks, and workstations. You will have several choices for workspaces, allowing you to find the best ones for your company's work style and flow.
Lighting: The importance of an office with good lighting cannot be overlooked. The right lighting can increase productivity, energy levels and mood of your employees and team. There are many different types of lights with many different features to meet your lighting needs like chandeliers, floor lamps and desk lights.
Haworth is our premier manufacturing partner, offering numerous top-quality products for offices. We are a Haworth Preferred Dealer and can provide adaptable office furniture systems from this reliable company, as well as 300+ other top-rated manufacturers. Whether you need office chairs, workstations, architectural interiors, or collaborative-friendly furniture, WB Wood can source these products for you.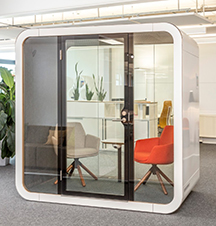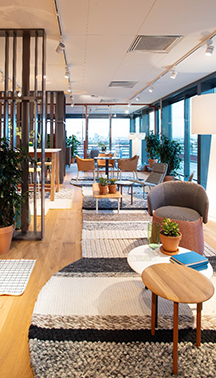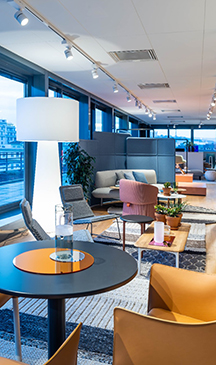 Adding Furniture to
Your Floorplan?
.
Whether you need to furnish a new office space, or you're looking to upgrade your current collection of furnishings, this overview video from WB Wood is a great place to start. The video shows some of the latest options from our 300+ manufacturers in all the essential furniture categories, including Seating, Tables, Storage, Workspaces, Lighting, and Architectural Interiors and Dividers.
Contact WB Wood for Custom Office Furniture Solutions
WB Wood has been helping businesses like yours since 1905. We have locations in New York and New Jersey, and we provide services throughout the United States and around the world.
We are a furniture project management company. We can provide the products you need to create a workable, energizing office. Our professional team can also help you design your interior office space. WB Wood can assist you with your design and architectural needs if you require help, and we will work seamlessly with your team.
Our goal is to help you find furniture solutions to make your office unique, revitalizing, and productivity-boosting for your employees. If you're ready to start securing the right office furniture for your building, please contact us online today!