Our Office Furniture Project Management Services
WB Wood is a Haworth Best in Class Dealer.
We are a Haworth Best in Class Dealer and because of our company's reputation and office furniture project management and procurement services, we are also partnered with many other furniture manufacturers around the world. So whether your office is in New York City or Anchorage, Alaska, we can provide the utmost professional and effective service.
Our office project management services include the following: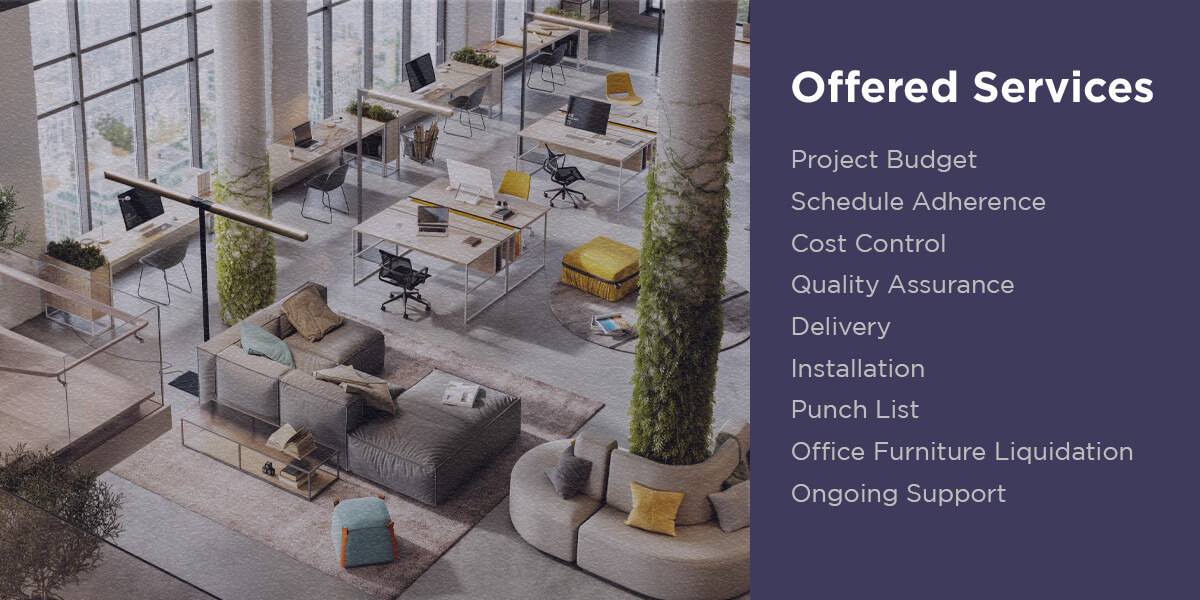 Project Budget
Most projects have preliminary budgets that guide the initial furniture selection process. We can provide you with a budget upon request. When we receive a request for proposal (RFP), we provide you with a list of actual costs to the client, including furniture purchasing as well as delivery and installation fees.
Our process works like this:
Budgeting: We develop a thorough, comprehensive budget that incorporates any changes made through fine-tuning and/or client input.
Value engineering: We consider how the costs of certain specification options could impact the budget and determine how we can keep costs low.
Existing inventory: We provide clients interested in reusing furniture they already own with detailed information on how to manage this process.
Careful documentation: We meticulously track and document any changes made during the course of a project to enable easy and accurate reconciliation when the project wraps up.
Schedule Adherence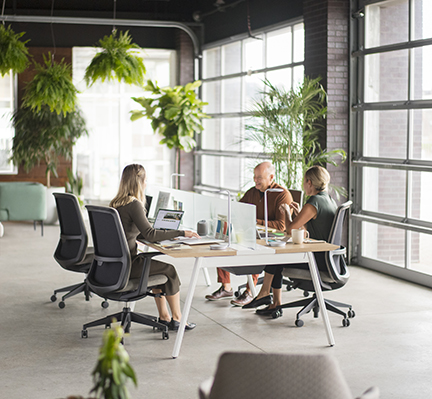 We employ a number of scheduling tools to keep team members in sync, clients informed and projects on track:
Detailed working schedules: We develop comprehensive schedules to simultaneously establish our project team's internal workflow and help our client/design team anticipate decisions requiring finalization to meet critical path deadlines. We present these schedules to the client during construction meetings to assure compliance.
Outstanding items list: Our project managers use this tool as an ongoing tracking mechanism to identify issues that may impact the schedule so they can resolve them as quickly as possible.
Regular updates: At regular agreed-upon intervals, our project managers prepare concise furniture project management status reports to keep all involved parties fully informed and up-to-date on progress.
Cost Control
Our experience and sound working relationships in the marketplace enable us to effectively manage expenditures and control client costs through every phase of an interior office furniture configuration project.
As specifications are being developed, we present clients with options that provide the greatest flexibility along with opportunities for cost savings. For example, choosing standard component-based furniture allows us to leverage economies of scale, eliminating the risks of inflated costs and extended lead times common to non-standard manufacturing conditions.
We have a comprehensive understanding of the nuances associated with logistics, the coordination required between the trades and the associated impact on labor costs, which allow us to apply a sharp eye to delivery and installation sequencing plans. These considerations include:
Organizing orders to maximize direct deliveries to the site.
Minimizing the costs associated with utilizing receiving warehouses.
Anticipating refinishing requirements.
Planning for unique field conditions to limit extra expenses.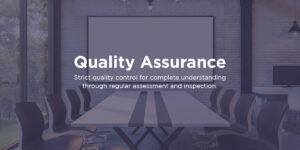 Quality Assurance
The attention to detail and emphasis on accuracy that characterizes the WB Wood approach to interior office planning extend naturally to the issue of quality assurance.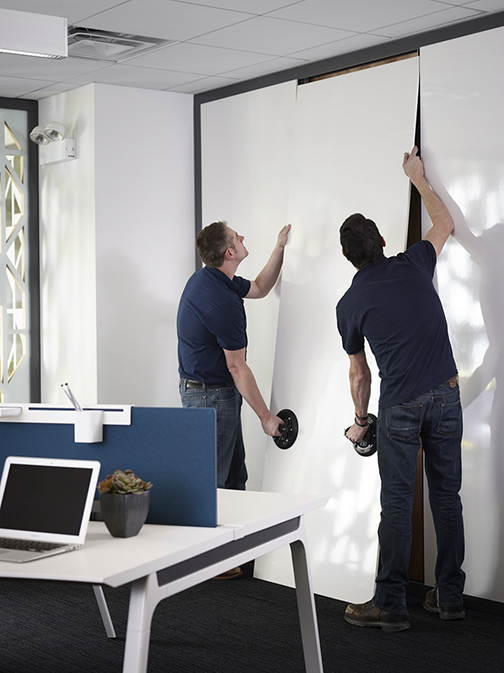 We incorporate strict quality control measures into each interval of the project process. These include:
An organizational format incorporating a series of checklists ranging from order specification to pre-site inspection.
Presence of the CAD/specifying team at all planning meetings to ensure complete understanding.
Organizing teams to enable duplicate reviews of work prior to finalization.
Acquiring mock-ups, drawings and physical submittals from manufacturers to assure accurate interpretation of order information and to allow client review of three-dimensional representations.
Regularly inspecting construction status and assessing the impact on delivery and installation.
Taking a proactive approach to installation by verifying field dimensions, flagging potential problems and generating solutions in advance.
Carefully inspecting all items processed through a receiving warehouse.
Reviewing fit and finish standards prior to beginning installation.
Conducting regular inspections at each phase of the installation process.
Tracking and documenting all changes so the final invoicing accurately reflects order history and clearly links back to the budget.
Delivery
In order to maximize efficiency and control labor costs, we plan for delivery early in the project. We tag initial orders by item code and room number and organize them for receipt by floor and phasing requirements, then develop sequencing that facilitates easy, efficient installation.
Whenever possible, we schedule orders for direct delivery to the site — the only items passing through a warehouse either require special handling or are small quantities.
Before delivery, we equip our experienced WB Wood delivery crews with a detailed scope of the project and clear performance expectations to ensure precise adherence to the schedule.

Installation
Our installation teams have received full training and certifications from multiple manufacturers, providing them with the expertise to safely handle a wide range of product lines. They also receive continuous briefings to ensure their skills and knowledge are always up to date.
Further, we involve our installation teams in the planning and ordering phases to increase efficiency and control costs. Their input helps us identify potential trouble spots and find solutions before problems arise, anticipate any refinishing requirements and plan for unique field conditions to limit extra expenses.
The installation teams work closely with architects and contractors to assure adherence to the schedule, proper fit and finish of new interior office furniture architecture and compliance with all jurisdictional requirements.
Punch List
A punch list outlines all the work remaining on a construction project. We strive to cross all the items off our punch list by the time we take you on the final walk-through.
To meet this goal, our project team works with an ongoing pre-punch list strategy designed to quickly identify and resolve potential problems during the installation process.
Office Furniture Liquidation
We offer our clients assistance liquidating their existing furniture. We recommend quality liquidators specializing in all types and brands of excess furniture.
Under our supervision, these companies tour your space to appraise existing furniture and determine whether a buyback is an option.
Ongoing Support
One of the primary reasons we maintain long-standing relationships with clients is our commitment to providing valuable ongoing support from the beginning stages of a new project to the finishing stages and beyond.
We consider flexibility and adaptability when generating initial specifications to simplify future furniture project management issues. In addition, we account for each business's unique dynamic nature so we can anticipate and help prepare for changing circumstances. For example, we often recommend ordering additional components for delivery during the first phase of a project, which eliminates cost overruns by applying the balance of unused inventory against later ordering phases.
After completing a project, we provide standards binders with the documentation necessary for subsequent Day 2 ordering. A WB Wood account manager continues as the liaison to maintain as-built conditions as well as manage all Day 2 activities.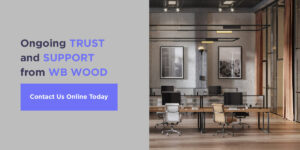 Trust WB Wood for Office Furniture Procurement Solutions
Whether your office is located in New York, New Jersey or somewhere across the country, we can help you create a beautiful collaborative office design.
If you'd like more information about how we can help you procure and manage your office furniture for a more modern office, we invite you to contact us online. We're happy to answer your questions.