Benefits of Having an Office Pantry Space
October 12, 2022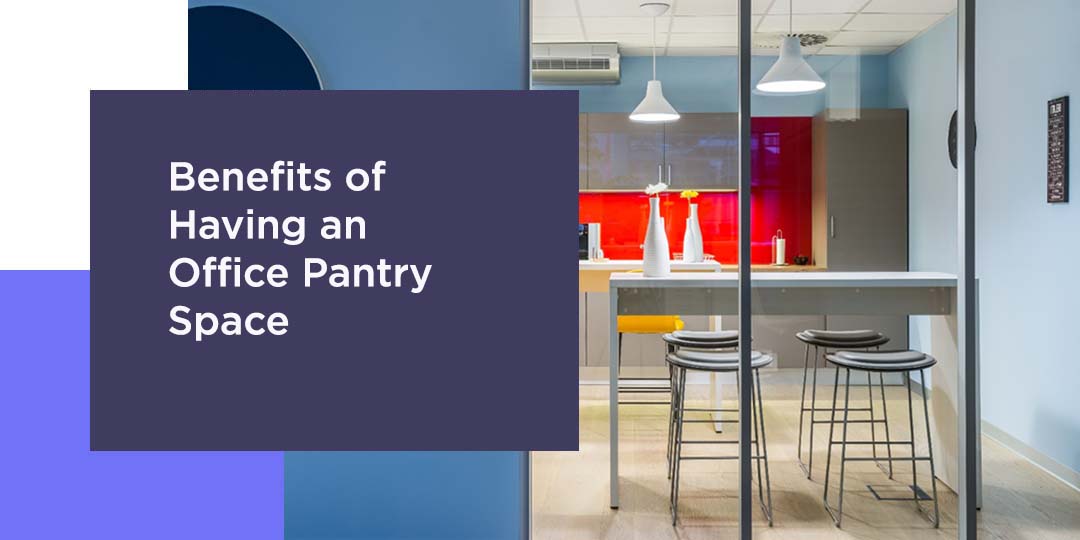 Communal spaces are becoming more vital in the office because they encourage collaboration, socialization and creativity. Office pantries provide a shared collaborative space central to the office design and environment.
An office pantry is a great way to show employees you appreciate their hard work and dedication. Office pantries transform the kitchen into a breakroom that can restore energy and encourage bonding. Here are some of the benefits of having an office pantry space.
Improves Productivity and Morale
When employees are hungry or thirsty, it's difficult for them to focus on anything else until their needs are satisfied. Usually, this requires trips to the local coffee shop or convenience store, which takes time. An office pantry would make it convenient for employees to get what they need and return to work.
Office pantries also improve worker morale. Managers might go get doughnuts or drinks as a treat to show their appreciation and increase worker happiness. The company could also provide bottled water and snacks year-round so employees have refreshments on hand when needed. Employees will view the snacks and beverages kept in the pantry as rewards and appreciation for their hard work.
Provides a Sense of Community
During breaks and lunchtime, your employees will disperse without a cafeteria or communal eating place. Employees who don't form friendships affect workplace culture and working relationships. Your employees won't feel like a team when they don't bond.
Over 90% of employees in the tech-related industry would choose to stay with a company that provides healthy workspace benefits like wellness rooms, healthy lunch options, common areas like kitchens and ergonomic workspace options.
Free food and drinks will entice many employees and encourage them to eat lunch together. Eating lunch together will lead to socialization and promote teamwork and community in the office. It can also increase company pride because employees will happily brag about a company that offers a pantry service.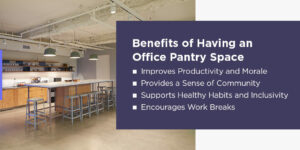 Supports Healthy Habits and Inclusivity
Not everyone has the same dietary needs. When office managers order doughnuts or pizza to treat employees, everyone may not be able to enjoy it. For instance, some employees could be allergic to gluten.
To circumvent this problem, you can set up an office pantry. You can have employees provide dietary restrictions and food preferences so no one is left out. If you survey your employees to learn what they want in the pantry, they will appreciate your willingness to consider their preferences.
Stocking the pantry with healthy items also shows your employees that you value their health and support a healthy workplace environment. Having a place to eat supports a healthy lifestyle by:
Giving employees a place to reheat food: Employees can bring meals from home instead of relying on take-out, sandwiches or convenience store meals.
Reducing stress: Having access to food and a place to eat will reduce employees' stress. They no longer have to feel rushed on their lunch break due to long lines or slow service.
Encourages Work Breaks
Working for long hours a day without a break will decrease productivity. Staring at a computer screen causes headaches and eye strain, and not walking or stretching leads to stiffness and joint pain. Research shows taking small breaks to the pantry after 1-2 hours of working can increase productivity and helps transition from task to task.
Office pantries encourage work breaks by giving workers options for snacks. They are in the office, so the distance isn't far and allows employees to move around and stretch. A well-designed office pantry provides a warm, welcoming space for employees to take breaks.

How to Maximize Office Pantry Space?
Pantries are a great option for storing snacks, coffee and other items for employees in the office kitchen. Unfortunately, they quickly become disorganized, chaotic and messy without proper storage solutions.
Tips for Saving Kitchen Space
When you decide to include a pantry in your office design, the office environment will soon feel like a community or family. These storage and organizational tips for saving kitchen space will help you maximize office pantry space and keep your office pantry neat and organized:
Don't overstock: Companies often buy kitchen items and food in bulk to save money. However, you risk losing money instead of saving it because unpopular goods will expire before workers use them. These expired items can take up valuable pantry space.
Organize by date: When organizing, be sure to place items you purchase most recently behind older items with later expiration dates. This method helps prevent food from expiring and ensures that employees eat items that will expire first.
Consider rollouts and open shelving: Rollouts and open shelving will maximize office kitchen space and allow your workers to see all the items in the pantry. These storage solutions reduce issues with items being overlooked and left to expire.
Organize by type: Categorizing your pantry based on like-items will make it easy for employees to find what they are looking for and put it back where it belongs.
Group items by size: Grouping the items by size will make your pantry look neater and make finding items easier.
Add additional shelving: Adding built-in or freestanding shelving will optimize your office kitchen space and offer extra storage for bulky or overstock items.
Use wire baskets: Wire baskets are an excellent way to store canned goods, chip bags or similar things.
Use hangers: Hangers provide extra storage on walls and cabinets. You can place small hangers in nooks and crannies to store items like tea or unrefrigerated fruits and vegetables. Larger hangers can store bulky items, like cling wrap or paper plates.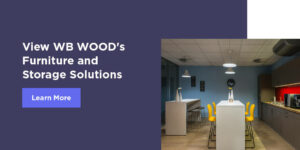 View WB Wood's Furniture and Storage Solutions
WB Wood is a furniture service provider and project management company founded in 1905. We are partnered with over 300 manufacturers and can obtain various furniture. Our office furniture includes many modern and collaborative pieces to fit our clients' numerous function and design needs. We offer accessories, seating, dividers and architectural interiors, tables, workspaces, lighting and storage options.
Contact us to learn more about our furniture options or help you find the best furniture and accessories to fit your design needs and budget.
Looking for Inspiration? Check out the Design Trends of 2023!
We have the perfect place to start your pantry design. Our office design trends can give you the inspiration you need to start working with your architect to create the best break area and bring a sense of community and morale.